5 reasons why we love spring skiing & snowboarding
Skiing and snowboarding season is not over yet!
5 reasons why we love spring skiing & snowboarding
Spring is just around the corner and the temperature is rising day by day. But the winter season in Niseko is not over yet! Let's make the most of the rest of the season with spring skiing!
---
1.Great Deals
The cost of lodging and lift tickets start to go way down. One of the best deals of the year begins to show up. During the peak season, lift tickets are ¥5,200 (adult, 5-hour pass for Hanazono/Hirafu), but this season they are ¥3,700, a savings of ¥1,500.
---
2.Empty slopes
In previous years, many tourists from Japan and abroad have visited Niseko. However, this season, due to the coronavirus, there are almost no tourists from outside Japan and you will be surprized with the empty slopes and restaurants. In the spring season, the number of tourists decreases, so you may find the slopes even more spacious. It's just like your private slope! No waiting for lifts, no stress. Perfect for beginners to practice.
---
3.Brilliant sunshine
Spring has long hours of sunshine and many sunny days. The intensity of the light that's so wonderful when the sun does come out. By spring, there's still a chance for a powder day, but more likely to blue skies. Combine warm days with overnight lows below freezing, and you're pretty much guaranteed soft snow. You may get sunburned by the strong sun, so we recommend wearing sunscreen and goggles/sunglasses.
---
4.Easy travel
During the peak season, it's great for skiing with a lot of snow, but it's not easy to get around. Driving in a whiteout or slippery road is just terrifying. You might fall down on the road. But, in the spring, the snow on the roads melts, so you will be safe outside!
---
5.Best views 
The magnificent Mt. Yotei, Niseko mountain ranges, the scenery is breathtakingly beautiful here. Take some pictures to post on social media! If you're lucky enogh, you may see a wonderful view of the sea of clouds.
---
What's good about Hanazono!?
Good snow conditions!?
Hanazono Niseko is the most north-eastern resort of Mt. Annupuri and the snow does not melt too much even during the day. You have more chances to enjoy good snow than any other ski resort in the Niseko area!
Fun parks!
Snow is soft and it is great for park riders. Hanazono has one of the largest terrain parks in Hokkaido and is the only one open this season in Niseko! A dedicated digger team that creates and maintains the park every day. They also visit the park regularly, so feel free to ask the digger for tips on ski/snowboard tricks or points to keep in mind when you try the park for the first time! Click here for the details.
Special Offers🔔
Here are some great deals you can use for spring skiing! Hanazono is offering various sales and discount coupons. Please check out the other information here!
---
We've got new packages that makes lift tickets practically free and lessons/activities very affordable!
Check out more!
---
Hanazono - Hirafu 1 Day Lift Ticket is now on sale, save 2,200 yen!
Check out more!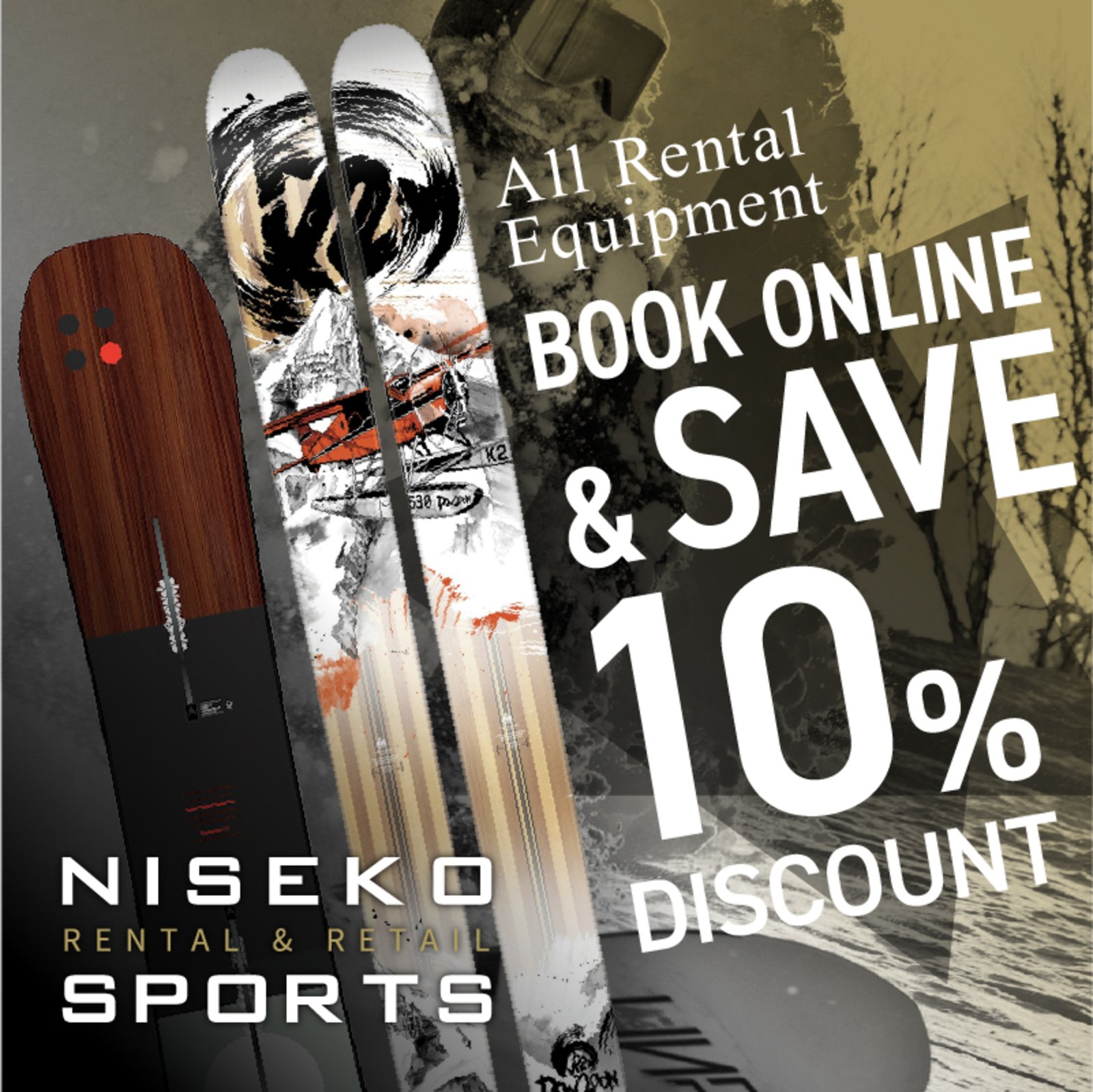 ---
10% OFF on all your rentals + KIDS Rental FREE! @Niseko Sports Hanazono 308 shop!
Check out more!
---
Enjoy Spring Skiing and SAVE!
Hanazono 2020-21 Snow Season operation will end on March 28. Take advantage of the big discount to celebrate the sunshine and blue skies on the slopes of Hanazono!
---
PREVENTION MEASURES AGAINST COVID-19
Niseko Hanazono Resort will operate while sticking to the following guidelines to ensure the safety of our customers and our employees. Please read it carefully before you come. Also, please bring and wear a mask when entering the resort. Thank you.