Book Now
Canyoning

Closed for this season. We look forward to seeing you next season.
Dates of Operation: July 8 - September 3, 2023
*Bookings are by request only.
Our reservation team will contact you by phone or email to let you know if your request is accepted or not.
Bookings are on a first-come, first-served basis. Please note that even if you are able to submit your request via the registration form, it might be full.
Canyoning
Our most adrenaline-fueled, physically challenging, adventure activity on offer in Niseko. You will put on a wetsuit and a vest to explore a network of canyons and deep pools where you will jump, slide, swim and finish off with a 6m jump into a deep blue pool. The first section is a slow river section where you can take in the natural surrounds, followed by slightly more turbulent waters, finishing off at the stunning Lion Falls.
---
Canyoning
Adult: ¥7,000/p.p.
Duration: 3.5 hours
Starting Times: 8:45am (meet 8:30) or 1:15pm (meet 1:00)
Tour requires a minimum of 2 guests to operate.
This tour is for those who are 13 years old and over.
Be sure to check the following.
Tour Schedule &What to Bring and Expect
What to Wear/Prepare
Swimwear or change of underwear, small towel
Change contact lenses to glasses, or wear disposable lenses and bring a spare.
Before the Tour
Please remove all watches, and jewelry before you arrive.
You will be fitted out with river booties.
A strap to prevent glasses from falling is available.
Getting Fitted Out
①Helmet
Protect your head from impact.
②Life jacket
It has strong buoyancy and you will not drown even if you fall off the boat.
③Wetsuit
The water inside the suit is warmed by your body heat and keeps you warm. The moderate thickness and elasticity will protect your body.
④River Shoes
The shoes are made of the same material as a wetsuit. The seawater that comes inside warms the entire foot.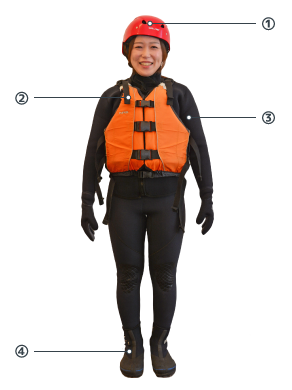 What to Bring
For safety reasons, no cameras or electronic devices are allowed. *Click here for photo sales.
Pay lockers are available for other valuables.
Meeting Spot and Time
*Please note that you will not be able to join the tour if you are late for the meeting.
NOTE
You will get wet all over as you go into the river in a wetsuit.
Guests under the influence of alcohol, pregnant or in poor health are not welcome to participate.
Guests between the ages of 12 and 18 may participate in the tour without a parent or guardian, but a parental consent form is required.
In order to prevent accidents, except for canyoning equipment, we do not allow guests to take personal belongings like camera, mobile phone, etc. during the tour.
Inquiries, Bookings and Discounts
Inquiries & Booking
Online bookings take precedence.
Dates that cannot be selected on the booking page are not available for booking.
In principle, bookings can be made from the first day of the two months prior to the date of use.
Online booking is available until 3:00 pm one day in advance.
Please click here for the cancellation fee.
We also accept bookings and inquiries by phone or e-mail.
If there is availability, participation on the same day is also possible. Please call to inquire.
Discounts
Save with the following discounts!
Online Discount
10% off the regular price by online booking!
Green Season Returning Guest Discount
Save up to 20% every time you book another activity with us during the 2023 summer season! Click HERE for more details.
---
Canyoning Pictures ¥1,000 (tax included)
Please feel free to ask your guide or the staff if you would like to purchase it. A QR code is ready to download pictures after the activity.
There is a minimum of 20 pictures included in the package. Depending on the weather and water level, the number may be less.
We take pictures from picture spots on the course.
Please note that not every scene you pose is captured since we take photos while moving.
The picture spot is varied depending on the reservation and weather conditions, so the shooting scenes are different on each tour.
---
Cancellation Policy
Cancellations received 2 days prior to the booking will incur no cancellation fee.
Cancellations received 1 day prior to the booking will incur a 50% cancellation fee.
Cancellations received on the day of the tour will incur a full 100% cancellation fee.
No cancellation fee will be charged if the tour is cancelled due to bad weather conditions.
---