---
Our most adrenaline fueled, physically challenging, adventure activity on offer in Niseko. You will put on a wetsuit and a vest to explore a network of canyons and deep pools where you will jump, slide, swim and finish off with a 6m jump into a deep blue pool. The first section is a slow river section where you can take in the natural surrounds, followed by slightly more turbulent waters, finishing off at the stunning Lion Falls.
Canyoning
| | |
| --- | --- |
| Dates of Operation | July 11 - September 6, 2020 |
Duration  3.5 hours
Starting Times - AM(9:00am~) PM(1:30pm~)
Tour requires a minimum of 2 guests to operate.
Feel free to make an inquiry from 1 person. For more information please email or call us.
This tour is for those who are 13 years old and over .
Please bring and wear a mask when entering the resort center Hanazono 308, and keep it on while moving to the activity location.
 
Pricing
---
You can make a reservation on the day, subject to availability!
Adult ¥6,800
CLOSE OF SEASON
---
Only available when you book online!
*Online booking is available up to 2hrs before the tour.
Adult ¥5,400
CLOSE OF SEASON
---
2020 Save up to 30% every time you book another activity with us during 2020's summer season!
*Please inform us of your last reservation's name, date and what activities you booked.
Adult ¥4,700
CLOSE OF SEASON
---
Value activity package includes lunc h and Onsen!
Canyoning & Lunch
Canyoning & Lunch + Onsen
2 optiones available
DETAILS
Booking is available 2 hours before the start time. Please check the details for a booking of the activity package.
Activity & Lunch Packages
Tour Schedule and What to Expect
| MEETING TIMES | |
| --- | --- |
| AM START 8:30am | PM START 1:00pm |
 *Please check-in at the main activity desk at Hanazono Resort Center (Hanazono 308).
What to Wear
We recommend you wear swimwear or underwear that can get wet.
Glasses - If you wear glasses, we can provide you with a string so you don't lose them on the river.
Contact lenses - Please either change to glasses or only wear disposable contact lenses. You may also wear goggles over your contact lenses.
Watches/Jewelry - Please remove all watches, jewelry before you arrive.
Shoes - You will be fitted out with river booties for your trip, there is no need for socks.
What to Bring
A full change of clothes & a towel - You will get wet!
Cameras & electronic devices - Please do not bring any cameras, electronic devices with you on the river. We have professional photographers that will take action shots of your tour. Photo CD's are available for purchase for ¥2,000.
Other Valuables - When bringing any valuables please remember to store them in the lockers provided
Getting Fitted Out
Once you are ready, our guides will instruct you how to get fitted out. Below is the standard for our Canyoning trips.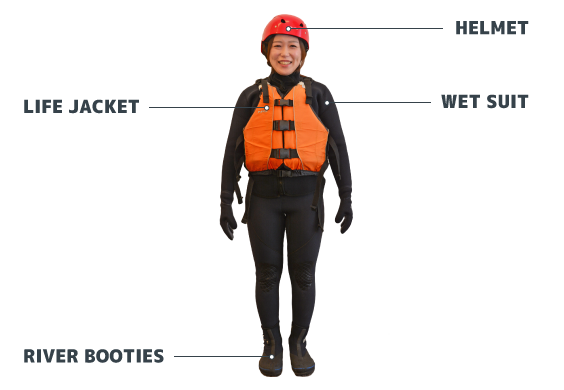 NOTE
Guests under the influence of alcohol may not participate in river tours.
Pregnant customers may not join the river tours.
In order to prevent accidents, except for rafting equipment, we do not allow guests to take personal belongings like camera, mobile phone, etc. during the tour.
Canyoning Pictures
A photograph package is available for 1,000 yen (tax included) under the prevention measures against COVID-19. Please feel free to ask your guide or the staff if you would like to purchase it. A QR code is ready to download pictures after the activity. To avoid crowding and staying for hours inside the facility, we don't display the images taken on the monitor.
There is a minimum of 20 pictures included in the package.
We take pictures from picture spots on the course.
There may be times when subjects are slightly blurry during an activity.
We don't include such pictures in the package.
Please note that not every scene you pose is captured since we take photos while moving.
Click here for sample pictures.
Inquiries & Booking
Inquiries & Booking
Tel: +81 0136-21-3333, Email
Office Hours: 8:30am 〜 5:30pm
Booking Required
Booking is available 2 hours before the start time. 
Please check the details for a booking of the activity package.
If there is availability, participation on the same day is also possible. Please call to inquire.
Cancellation Policy
Please be aware the following cancellation policy applies to bookings:
Cancellations received 2 days prior to the booking will incur no cancellation fee.
Cancellations received 1 day prior to the booking will incur a 50% cancellation fee.
Cancellations received on the day of the tour will incur a full 100% cancellation fee.
Cancellations caused by inclement weather, flight and public transport delays etc will incur no cancellation fee.
There will be no cancellation fee during the COVID-19 prevention period. Please contact us by email or phone to make cancellation before the activity starting time.