Book Now
Tree Trekking & Tree Walk
Dates of Operation: April 29, 2022 - October 30, 2022
The 2022 green season operation is closed. Thank you very much for your visit. We look forward to seeing you again next season at Hanazono!
FUN IN THE TREES
The Most Thrilling Activity, the Biggest Tree Trekking in Hokkaido!
Feel on top of the world with Hanazono Forest Tree Trekking, a series of 6 high ropes courses laid out among the trees for an exhilarating and challenging experience. Courses include platforms to progress to with unique paths between each to test your courage and problem-solving abilities. Four courses also have a zipline where you can fly through the trees like a bird and feel the summer breeze in your hair. Courses range in level from Beginner to Intermediate so guests of all ages can be engaged.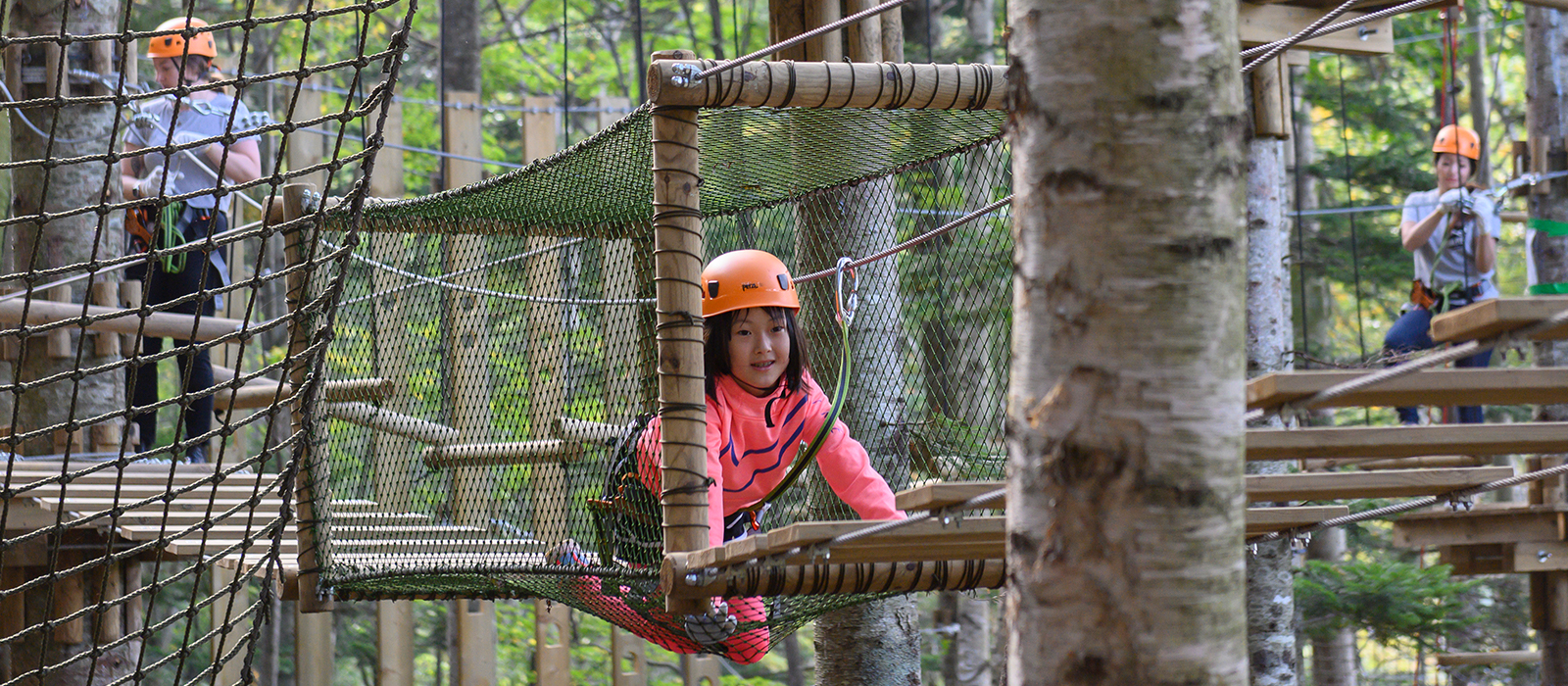 ---
Tree Walk
If you're looking to relax, take some time out of your busy schedule to immerse yourself among the trees and take everything in with the Hanazono Forest Tree Walk. Set in the dense forest, it's a short yet relaxing journey with incredible views of the mountains.
---
Tree Trekking
Adult: ¥4,500/p.p.
Child: ¥3,800/p.p.
Dates of Operation: April 29 - October 30, 2022
Duration: Approx. 3 hours to finish all the courses
Starting Times: 9:30am,10:30am, 11:30am, 1:00pm, 2:00pm
Adult: Age 13+ / Height 120cm + / Weight under 120kg / Waist under 100cm
Child: Age 6+ / Height 120cm +
BOOKING / INQUIRIES
Get a great deal!
SPECIAL OFFERS
Don't forget to check the meeting spot and time for the day.  
MEETING SPOT AND TIME
---
Courses
Feel one with nature as you climb, hang and zip between towering trees in the Hanazono Forest with challenging tree treks and fun ziplines!
| COURSE | LEVEL | LENGH (m) | PLATFORMS | ELEMENTS | ZIPLINES |
| --- | --- | --- | --- | --- | --- |
| Kids 1 | Beginner | 65 | 7 | 7 | 1 |
| Green 1 | Beginner | 149 | 10 | 10 | 1 |
| Green 2 | Beginner | 220 | 19 | 19 | 1 |
| Green 3 | Beginner | 243 | 19 | 19 | 2 |
| Blue 1 | Intermediate | 184 | 16 | 16 | 1 |
| Blue 2 | Intermediate | 110 | 11 | 11 | 0 |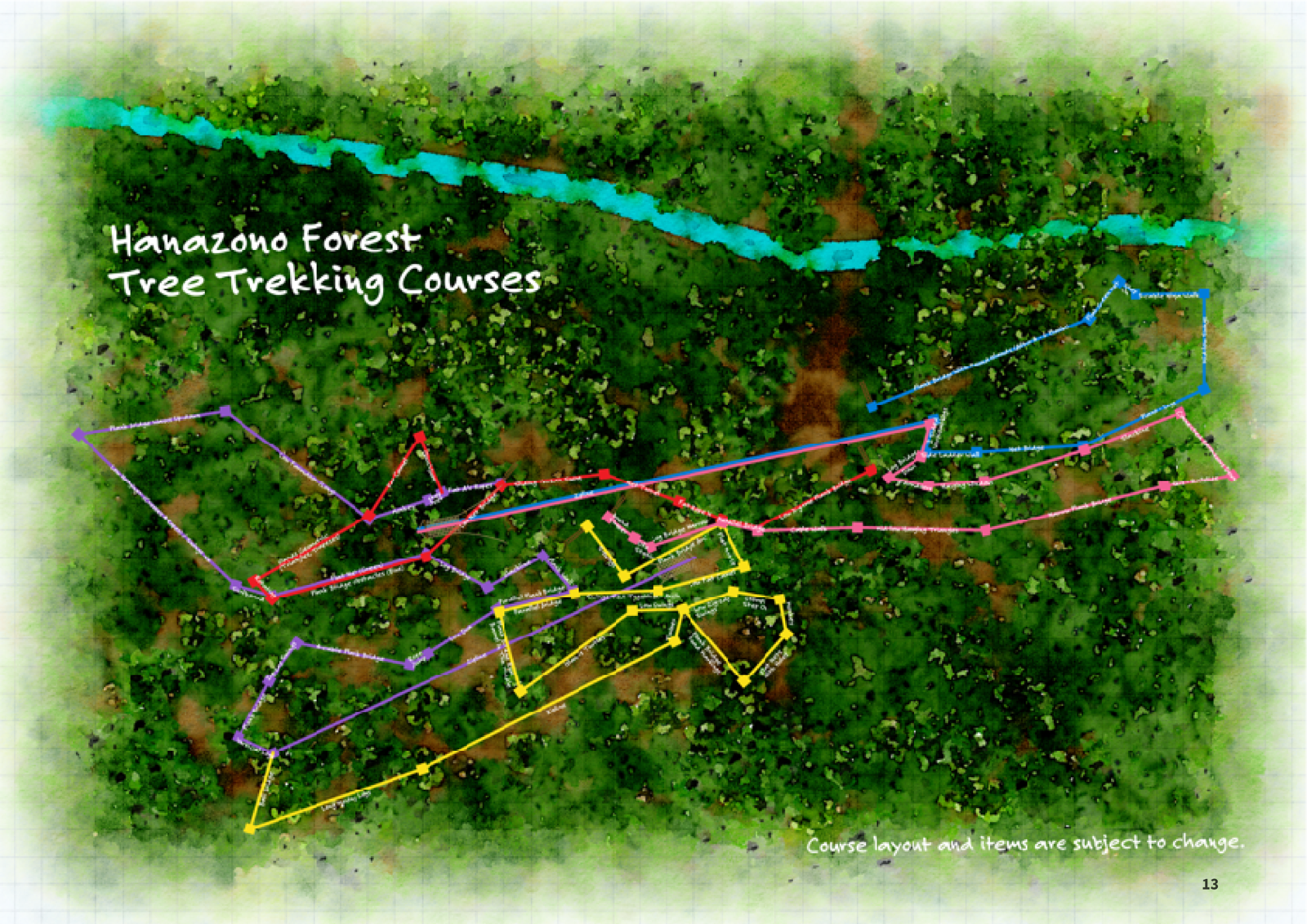 ---
Tree Walk
FREE!
Climbing up the small mountain, there is a free tree walk on a hill with a great view through the forest. On a sunny day, this is an outstanding viewpoint overlooking Mount Yotei.
Dates of Operation: April 29 - October 30, 2022
No minimum age/height
Open from 9 am - 5 pm, free of charge.
No booking is required. Just go through the tree walk entrance in the tree trekking area and have fun!
---
Special Offer
Online Discount
Only available when you book online!
*Online booking is available by 5pm before the day of use.




Adult ¥4,500 → ¥3,600
Child ¥3,800 → ¥3,040
Returning Guest
Save up to 30% every time you book another activity with us during 2022's summer season!
*Enter the discount code you will receive after the first activity when booking online.!
Adult ¥4,500 → ¥3,150
Child ¥3,800 → ¥2,660
Lunch Coupon
To add on to your activity!
Enjoy value lunch at Club House Restaurant in Hanazono Golf after your activity.





Adult / Child ¥1,200
---
What makes Hanazono so special?
One of the most spacious and clean facilities in Niseko!
Resort Center Hanazono 308 is the reception and meeting point for all activities. There are clean and well-equipped restrooms, changing rooms, and lockers in an open space. The outdoor foot shower is also available to wash your feet, so you can get dressed comfortably.
Soak in hot springs after enjoying our activities!
We provide a discount ticket to our customers at the end of each activity upon request! Nothing beats an onsen after water activities! Have fun!
---
Inquiries & Booking
Book online to get the best rates!
In principle, reservations can be made up to 2 months in advance of the date of use.
Online booking is available until 5:00 pm one day in advance.
If there is availability, participation on the same day is also possible.
Tree Trekking may not be available for group use. Advance bookings are recommended.
Due to the Covid-19 situation, activities may be suspended even during our operation period. Go to the booking page on each activity page and if you cannot select a date in the calendar, we will not be able to accept your booking.
PREVENTION MEASURES AGAINST COVID-19
This season's summer activities at Niseko Hanazono Resort will operate while sticking to the following guidelines to ensure the safety of our customers and our employees.
Please read it carefully before making a booking.
Please bring and wear a mask when entering the resort center Hanazono 308, and keep it on while moving to the activity location.
---
Meeting spot and time
10 mins before the starting time
NOTE
Children under 12 can participate with an adult guardian. Please include any accompanying adult in the number of participants of your booking.
Platforms and elements are positioned at least 3 meters above the ground.
Max 3 kids supervised per adult.
When a group of under 18 but above junior high school age wish to participate without guardian, a written consent from a parent or guardian is required.
Prior booking is not required however it is recommended.
Tree Trekking course will close at 5:00 pm. The last entry is at 4:00 pm.
Once the activity is started, refrain from leaving the tree trekking area, which requires putting on and taking off the harness, except for emergencies such as toileting.
It may be difficult for children to attach or detach the rope even if they meet the height requirement of 120 cm or more.
What to Bring
We recommend active clothing and gloves (dots gloves recommended) that guests don't mind potentially getting dirty. Gloves are available for purchase at Niseko Sports.
Cameras & electronic devices: The harness you will wear has a strong magnet, which will affect your cell phone and credit cards. If you wish to bring them with you, please keep them in your left breast pocket and understand that they may be lost or damaged and that you are responsible for them.
As we're right in the natural forest, there are insects when temperature rises. Use of repellent is recommended.
What to Wear
During Tree Trekking, there is a possibility of getting tree sap on your clothes which is very difficult to remove. Raincoats are available for purchase at Niseko Sports to protect clothing from tree sap.
We recommend shoes with good grip. When the snow melts or the ground is wet after rain, the shoes can easily get dirty.
For safety reasons, we recommend that you tie up your long hair and wear something less revealing.
Getting Fitted Out
Once you are ready, our guides will instruct you on how to get fitted out. The below is the standard for our Tree Trekking.
①HELMET
Be sure to wear it provided by Hanazono.
②HARNESS AND CARABINERS
They are necessary for safety reasons.
③Cameras & electronic devices
Keep them in your left breast pocket if you wish to bring them along.
---
Cancellation Policy
Cancellation with Covid-19 symptoms
Please contact us about cancellations when you have fever, or other symptoms of Covid-19.
Some activities have special cancellation weaver in case the ceritificate from medical institutions can be presented.
Please see our cancellation fee below for other cases.
Cancellations received 2 days prior to the booking will incur no cancellation fee.
Cancellations received 1 day prior to the booking will incur a 50% cancellation fee.
Cancellations received on the day of the tour will incur a full 100% cancellation fee.
No cancellation fee will be charged if the tour is cancelled due to bad weather conditions.