Book Now
Tree Trekking & Tree Walk
Dates of Operation: April 29 - October 22, 2023
*Bookings are by request only.
Our reservation team will contact you by phone or email to let you know if your request is accepted or not.
Bookings are on a first-come, first-served basis. Please note that even if you are able to submit your request via the registration form, it might be full.
FUN IN THE TREES
The Most Thrilling Activity, the Biggest Tree Trekking in Hokkaido!
Feel on top of the world with Hanazono Tree Trekking, a series of 6 high ropes courses laid out among the trees for an exhilarating and challenging experience. Courses include platforms to progress to with unique paths between each to test your courage and problem-solving abilities. Courses range in level from Beginner to Intermediate so guests of all ages can be engaged.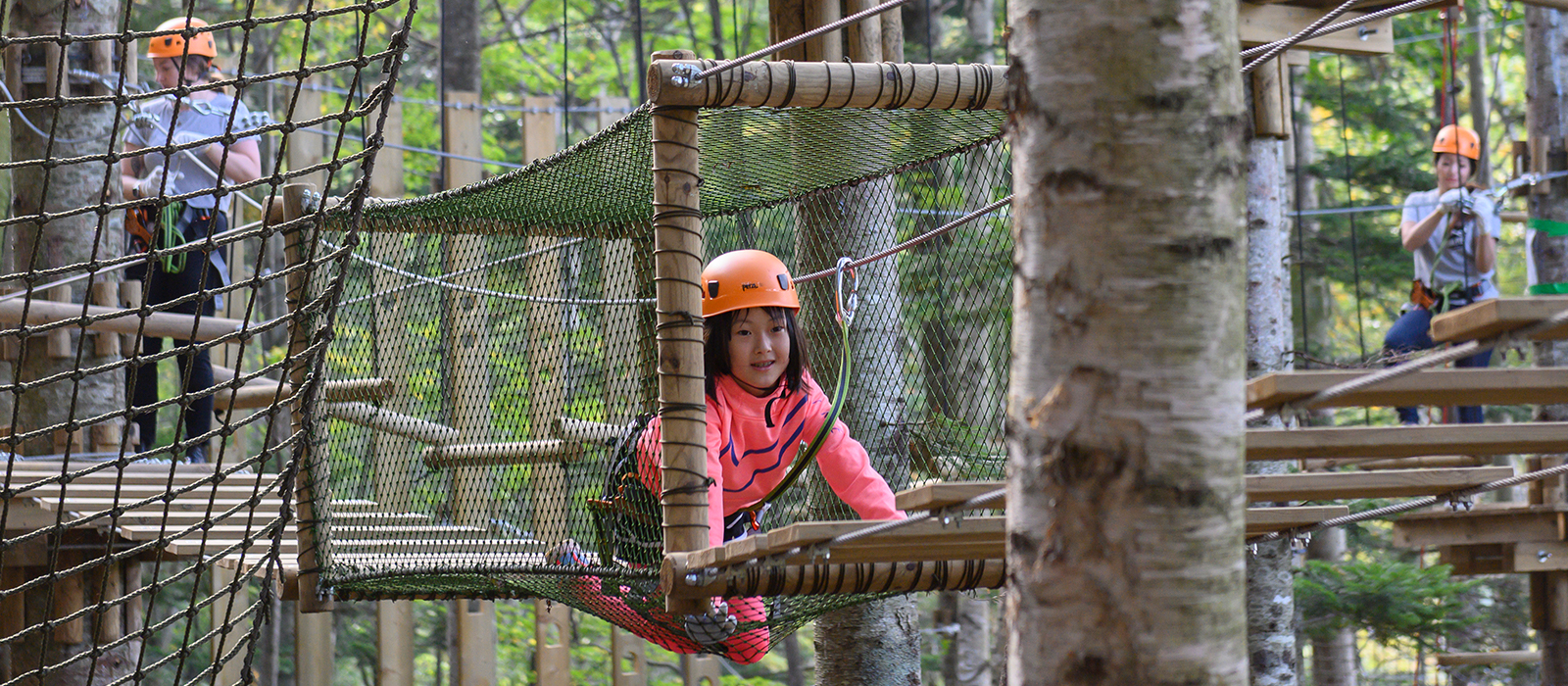 ---
Tree Trekking
Adult: ¥5,500/p.p. | Child: ¥4,500/p.p.
Duration: Approx. 3 hours to finish all the courses
Starting Times: 9:30am, 10:00am, 11:00am, 1:00pm, 2:00pm
Adult: Age 13+ / Height 120cm + / Weight under 120kg / Waist under 100cm
Child: Age 6+ / Height 120cm +
Be sure to check the following. 
Tour Schedule & What to Bring and Expect
What to Wear/Prepare
Gloves that can get dirty (non-slip gloves recommended). Available at Niseko Sports.
Clothes that can get dirty (Pine sap is difficult to remove, even with laundering) Raincoats are available at Niseko Sports.
Athletic shoes that can get dirty.
Insect repellent.
Before the activity
Please remove all watches, and jewelry before the tour.
Long hair must be tied up for safety reasons.
Getting Fitted Out
①Helmet
Be sure to wear it provided.
②Harness & Carabiners
An essential item for safe enjoyment!
③Cameras & Electronic devices
Keep it in the left side chest pocket to avoid magnetism.
What to Bring
The harness has strong magnets that can affect cell phones, electronic devices, and credit cards. You may carry it at your own risk in your left chest pocket where the magnets are less likely to interfere.
Pay lockers are available for other valuables.
Inquiries, Bookings and Discounts
Meeting Spot and Time
*Please note that you will not be able to join the tour if you are late for the meeting.
NOTE
Platforms and elements are positioned at least 3 meters above the ground.
After each course, you can go down to the ground.
Children under 12 must be accompanied by a parent or guardian. (Up to 3 children per parent/guardian)
Guests between the ages of 12 and 18 may participate in the tour without a parent or guardian, but a parental consent form is required.
It may be difficult for children to attach or detach the rope even if they meet the height requirement of 120 cm or more.
When participating with children under 130 cm, it is best to have an adult in front of and behind the child.
If you wish to leave the trekking area after attaching the harness, please ask a nearby staff.
Guests under the influence of alcohol, pregnant or in poor health are not welcome to participate.
BOOKING
Online bookings take precedence.
Dates that cannot be selected on the booking page are not available for booking.
In principle, bookings can be made from the first day of the two months prior to the date of use.
Online booking is available until 3:00 pm one day in advance.
Please click here for the cancellation fee.
We also accept bookings and inquiries by phone or e-mail.
If there is availability, participation on the same day is also possible.
Discounts
Save with the following discounts!
Online Discount
10% off the regular price by online booking!
Green Season Returning Guest Discount
Save up to 20% every time you book another activity with us during the 2023 summer season! Click HERE for more details.
---
Tree trekking course details
Feel one with nature as you climb, hang and zip between towering trees in the Hanazono Forest with challenging tree treks and fun ziplines!
| COURSE | LEVEL | LENGH (m) | PLATFORMS | ELEMENTS | ZIPLINES |
| --- | --- | --- | --- | --- | --- |
| Kids 1 | Beginner | 65 | 7 | 7 | 1 |
| Green 1 | Beginner | 149 | 10 | 10 | 1 |
| Green 2 | Beginner | 220 | 19 | 18 | 2 |
| Green 3 | Beginner | 243 | 19 | 19 | 2 |
| Blue 1 | Intermediate | 184 | 16 | 15 | 0 |
| Blue 2 | Intermediate | 110 | 11 | 10 | 1 |
The time required for a full course attack is 3-4 hours. After each course, you can go down to the ground.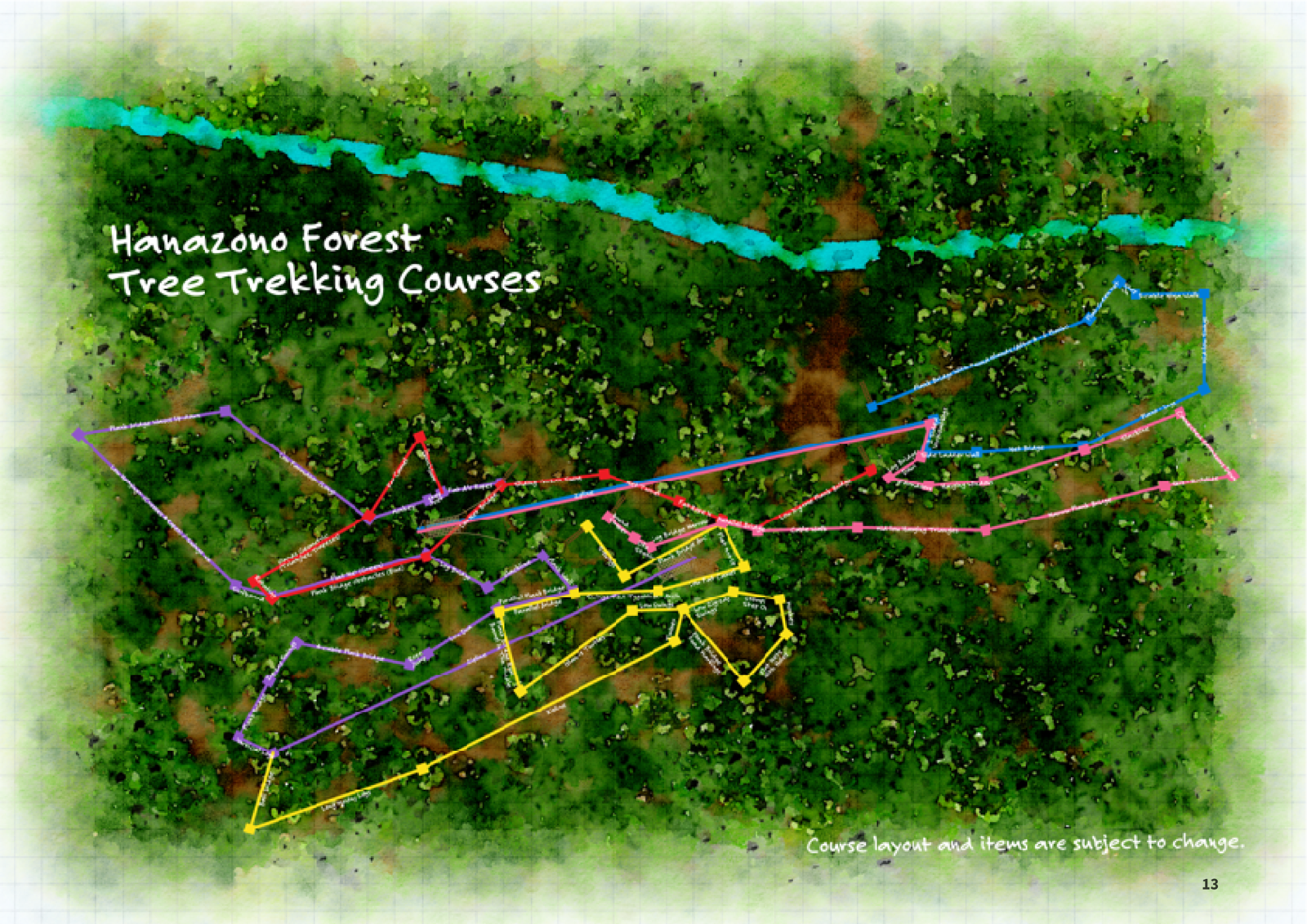 ---
Tree Walk
FREE!
Climbing up the small mountain, there is a free tree walk on a hill with a great view through the forest. On a sunny day, this is an outstanding viewpoint overlooking Mount Yotei.
No minimum age/height
Open from 9 am - 5 pm, free of charge.
No booking is required. Just go through the tree walk entrance in the tree trekking area and have fun!
---
Cancellation Policy
Cancellations received 2 days prior to the booking will incur no cancellation fee.
Cancellations received 1 day prior to the booking will incur a 50% cancellation fee.
Cancellations received on the day of the tour will incur a full 100% cancellation fee.
No cancellation fee will be charged if the tour is cancelled due to bad weather conditions.
---