Niseko International Snowsports School
NISS - NISEKO'S PREMIER SNOWSPORTS SCHOOL
TWO CONVENIENT LOCATIONS IN HANAZONO AND HIRAFU
We believe in creating memories for you and your family where natures beauty is enhanced by our facilities and your instructor is inspired to teach and pass on their knowledge to you.
We are an official resort operated Snowsports school with two convenient locations in Hanazono and Hirafu. NISS boasts a complete offering of services to accommodate for every guests needs and aspirations, whether beginner or advanced, small child or adult, skier or snowboarder.
Come and share a memory with NISS.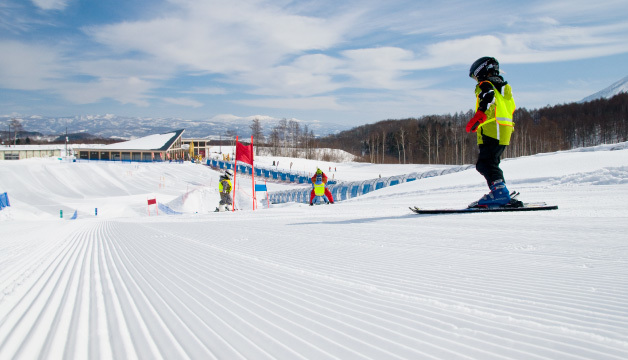 Hanazono Learning Areas Operated
From first timers to those who want to step up their expert game, HANAZONO is the perfect place to learn. With the expansion of the HANAZONO 308 Learning Center, kids have access to a world class indoor and outdoor facility. The outdoor HANAZONO facilities, positioned directly in front of 308 are now improved to make learning and progression fun for the kids for days on end. All Tic-Tac Kids Club and Yuki Programs are inclusive of a great lunch at HANAZONO 308.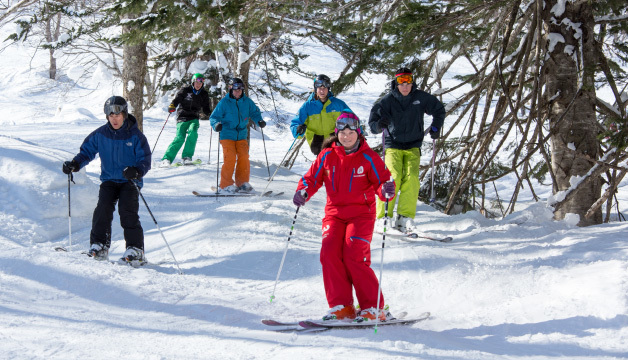 All new adventure trails
NISS is introducing Niseko's first designated learning trails. Everyone loves skiing the trees and to make it safe, fun and great for learning NISS have made an exciting adventure trail - Strawberry Bell's located on the right side of Strawberry fields. With colourful bells and sign posts to guide classes over and around the best features for learning and development, it is bound to be noisy, fun, colourful, safe and a new exciting way to learn.
Learn to ski in the language you prefer
Contact Information
Email: niss@harmonyresorts.com
Telephone: +81 (0) 136 21 66 88
Fax: +81 (0) 136 21 66 57
Programs
Group Programs
Key points
Meet at Hirafu or Hanazono
Lessons conducted at Hanazono
All day group and kids lessons are held at the improved HANAZONO learning facility.
Adult group programs:
Kids group programs:
Private Programs
Key Ponits
A fully qualified and experienced instructor all to yourselves!
Convenient option of starting from either Hanazono or Hirafu

Lessons conducted at Hanazono and Hirafu
Convenient option of starting from either Hanazono or Hirafu Lessons conducted at Hanazono and Hirafu
Adult private programs:
Kids private programs:
Special Offers
Spring Beginners Package
1 Day group lesson and ski/snowboard + boots + helmet rental
The Spring Beginner's Package is designed for first time skiers and boarders. We want our guests to get the most out of their snow experience, so we have made it easy for you to book your essentials - equipment rentals with Niseko Sports and group lessons with NISS in one convenient and affordable package. Now there is no better time to learn!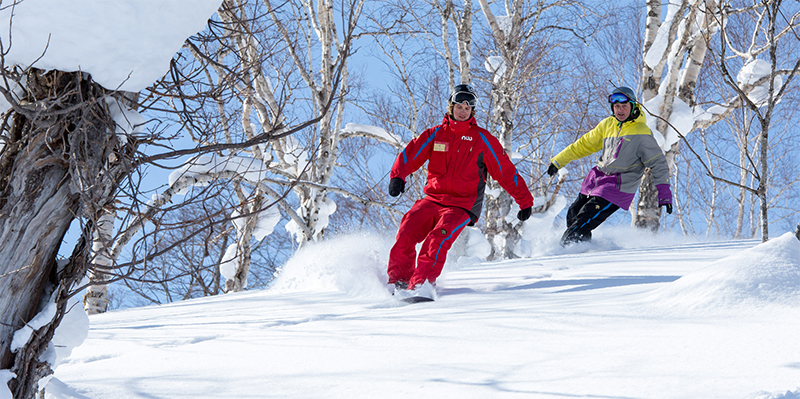 Available to book now until the end of the season.
Rates:
18,000JPY per Adult
16,000JPY per Child - Yuki and Tic Tac
Restrictions:
February, 5th – April, 2nd
Limited to 1 day only
Lift Ticket not included
Rental pickup and lesson location is at Hanzono 308 only
Advance and in resort bookings are available
Guests can book package up to 3 times only
Finding Us
所在地
| NISS Hirafu Base | NISS HANAZONO |
| --- | --- |
| 193-6 Yamada, Kutchan-cho, 044-0081 | 328-1 Iwaobetsu, Kutchan-cho, 044-0082 |
Niss Hirafu Base
NISS Hirafu is located opposite the Vale hotel, within metres of Family Chair Lift. Meet here for lessons starting in Hirafu and also for the NISS Express Shuttle Service.
Shuttle buses to Hanazono
We've made it hassle free to start your day's group lessons with our NISS Express Shuttle Service from NISS Hirafu direct to HANAZONO. Simply arrive for registration before 9:15am and your instructor will be waiting to assist you with the short 15 minute trip to HANAZONO. Your instructor will provide a short introduction on the way to prepare you for your day's lesson.
We also provide continuous free shuttles throughout the day. Check our access page for more information.
NISS Express Shuttle
HANAZONO Shuttle
Hirafu
↓
HANAZONO
HANAZONO
↓
Hirafu
Hirafu
⇅
HANAZONO
9:00AM - 9:30AM
3:30PM - 3:45PM
7:50AM - 5:10PM
Every 20 min
Upcoming Events
---
Featured Picks
---