Book Now
Hanazono Summer Gondola
Summer gondola service resumes at 12:00 pm
September 23
The Summer Gondola, which has been out of service for maintenance work, will resume operation from 12:00 pm. today.
Dates of Operation: April 29 - October 15
*Walk-in only. Please purchase tickets at Hanazono 308 activity desk on the day of your visit.
Closed from May 29 to June 9.
Hanazono Summer Gondola
Japan's first gondola produced by POMA, a French company, is now available for summer gondola rides.
The same gondola cabins for Symphony Gondola in winter are on the Hanazono 1 cables during summer to enable guests to access the top station of Hanazono 1, enjoying a walk in the air.
6 minutes each way, from 308m to 658m above sea level.
On fine days, you can enjoy a superb aerial view of Mt Yotei, one of Hokkaido's most famous mountains and one of Japan's 100 most famous peaks.
Your fluffy family members are also welcome!
Pets are welcome on board, provided you have a gauge and leash cord. Why not make memories of your trip with your pet? There are benches, tables, and hanging chairs near the summit station, perfect for picnics. You can also watch the HANAZONO ZIPFLIGHT flight.
Designed by Italy's Pininfarina, the brand new 10-person Hanazono Symphony Gondola represents the pinnacle of modern gondola design and comfort and will be the first POMA 10-person Gondola installed in
Japan. Each cabin boasts individually embroidered, leather-trimmed seats, and an individual suspension system for each cabin.
Summer Gondola
Adult: ¥1,800 | Child: ¥900 (Free for 5 and under) | Pets: ¥500
Duration: 6 minutes One Way
Operation Time: 9:00am - 4:00pm(last ride)
Gondola Speed 4m/S
Maximum 8 persons in a cabin
Price is for a Round Trip, No One Way price available
Pets must be in a cage or leash cord.

*Walk in only
NOTE
There are no restrooms or restaurants near the summit station. Take-out at a cafe or hotel lounges at the foot of the mountain is recommended.
The area near the summit station is unpaved, so please wear comfortable shoes. Baby strollers are not easy to push.
The cabin is not air-conditioned so it will be hot inside on hot days. If you are not in good health, please refrain from using it.
---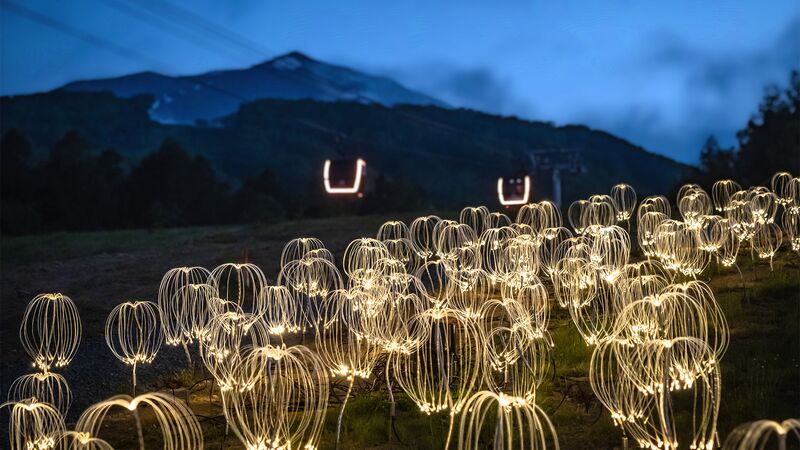 Mountain Lights
Try this at night.
Adult ¥3,200 (Age 13 and up) | Child ¥1,500 (Age 6-12) | Pet ¥500
For details and purchase, please visit the special website.
The nights in Niseko will be illuminated with light-based artwork in complete harmony with Hanazono's natural surroundings, producing a dreamlike walkway through the wonderland. This is Bruce Munro's first art installation in Japan.
Enjoy 1.3 km of photogenic illumination!
Inquiries
Gondola services may be suspended due to weather and other conditions.