Hanazono Niseko news and information
Hanazono has launched some new summer activities in 2020. Find out more about Ocean Fishing Tour.
New in 2020, Hanazono has started new summer activities. Find out more about Golf Cart Tour.
Hanazono Niseko starts a new program this winter 2020-21!!
Vacation Niseko winter 2020-21 early bird discounts until June 30. Save up to 35% off!!
Hanazono winter 2020-21 bookings are ready and waiting for you.
Click here for information about measures against coronavirus at Hanazono Niseko Resort. Please make sure to read it before participating in any of our activities.
Spring has come! From March 23, lift tickets can be purchased at a special discounted spring season price. Take advantage of this limited offer to celebrate the arrival of the season of sunshine and blue skies on the slopes of Hanazono!
Australian Winter Olympian shares her family ski holiday experience and tips with Hanazono, Niseko Japan
How did you enjoyed your adventure here in Hanazono? In this episode, Dana from Singapore will share her amazing journey with NISS kids lessons.
This season is definitely not like any of those past seasons in Niseko, but fortunately, Hanazono is still receiving plenty of snow to make sure everyone is having fun and stay safe on the piste.
Outdoor enthusiasts' beloved tech wear brand, Arc'teryx. Its pop-up shop is now open at Niseko Sports Hanazono 308 until mid-January. Here are some items that we fell in love with.
Latest Deals & Packages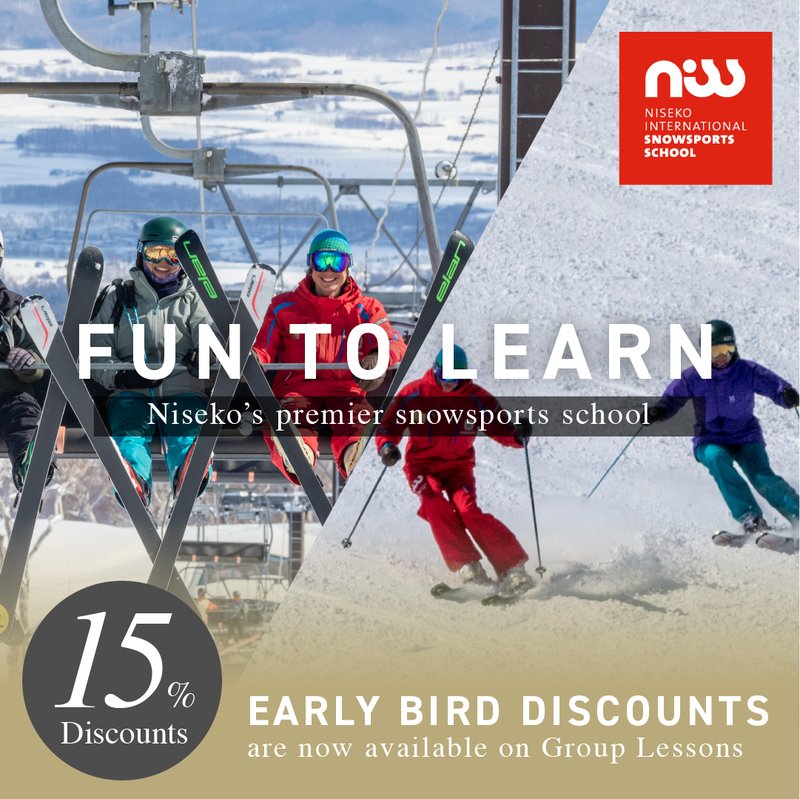 BOOK YOUR LESSON at 15%OFF
Big chance to book your coming winter NISS lessons at discounted price until 30 September..
Read More »
RENTAL EARLYBIRD DISCOUNT 20% OFF
Niseko Sports is now offering Eearlybird special price for this coming winter Ski/Snowboard rentals until 31 July.
Read More »
NEW PROGRAM RIDE & CLIMB 2020/21!
NISS is offering a new program Ride & Climb this winter 2020/21!
Read More »