Book Now
Niseko Weiss Powder CATS
Dates of Operation: December 20, 2023 - Middle of March, 2024
*Operation period depends on the snow condition (Check the latest opening status)
Bookings open for the 2023-24 season!
Your own private mountain.
Hanazono's exclusive services
If you are looking for fresh tracks and the mountain just for you and your friends, Niseko Weiss Powder Cats is your answer! It provides cat-assisted ski and snowboard adventures on our own private mountain. A maximum of 12 guests per day guarantees line after line of fresh tracks without queueing for lifts or hiking. Enjoy spectacular views & specially prepared lunch at Park Hyatt Niseko Hanazono.
Weiss CAT Tours provide a relaxing deep powder experience. The terrain is suitable for intermediate powder skiers and riders, or advanced guests who want an exclusive adventure. Please check our Off-Piste Ability Chart. Groups are joined by several guides to give advice on the best spots on the mountain and ensure your safety throughout the day. Photos will be taken as part of the tour and links will be provided to the day's epic photos for you to keep as a memory. 
Resort Operated
NISEKO WEISS POWDER CATS is operated by Niseko Hanazono Resort.
all the experience and expertise of the ski resort behind your cat ski tour.
First Tracks... Guaranteed!
Mt. Weisshorn was once a ski resort but currently not used by anyone but us. This means the entire mountain is available for private use for parties up to 12 people!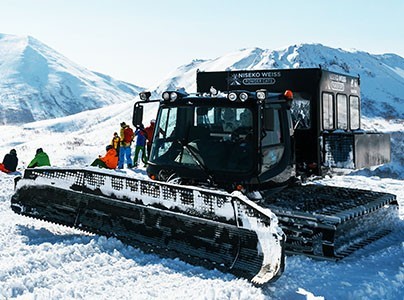 Proud CAT (PistenBully)
The machine we use has a specially-made cabin that can fit up to 12 guests, keeping them warm during the ride up. We also have snacks and water prepared to satisfy your hunger and quench your thirst.
Lunch at Park Hyatt Niseko Hanazono
Enjoy a specially prepared lunch at Park Hyatt Niseko Hanazono. Enjoy a gourmet experience with professional chefs utilizing the freshest ingredients from the sea and land of Hokkaido.
  Weiss Powder Cat Tours 
Pricing
Min/Max per tour
Private Tour
¥770,000 per group
Ages 12 + / Max. 12 / Private group of 1-12 guests
Group Tour
¥110,000 per person
Ages 12 + / Max. 12 / For solo or small group to go with other people!
*Tour runs when we have 7 or more participants.
*Include safety equipment, transportation, snacks at mountain and lunch at Park Hyatt Niseko Hanazono
Perfect for powder debutants and intermediate levels
The steepest run would be 30 degrees and an average would be 20 degrees. The maximum vertical descent is 450 meters. Please refer to our off-piste ability below to check your riding skills.
---
---
SCHEDULE
7:20am - 7:50am
Pick-up service from your accommodation in the Niseko area
8:00am - 8:30am
Registration and safety briefing at Hanazono 308
 Provide safety gear, beacon training, explain backcountry awareness, transport to Mt. Weisshorn
9:00am - 1:15pm
Morning CAT riding session
 6 - 7 runs depending on the conditions
1:30pm - 2:30pm
Lunch at Park Hyatt Niseko Hanazono
3:00pm
Finish tour and drop-off at your accommodation in the Niseko area
Additional Information:
Price includes safety equipment, transportation, snacks at the mountain, and lunch at Park Hyatt Niseko Hanazono.
Snacks and bottled water are available at any time in the CAT.
Guests aged 12-15 need an accompanying guardian.
Guests aged 16-19 need a written waiver from a guardian
---
NISEKO WEISS POWDER CATS PARTNERS
Frequently Asked Questions
We recommend you bring the following items;
Facemask & neck warmer - We recommend that you wear or carry a facemask and neck warmer
Gloves - Please choose warm and well-fitting gloves
Ski poles - Poles with powder baskets are recommended
Skiwear -  We recommend guests bring an extra pair of inner layers as the temperature may change suddenly
Helmet - Helmets save lives. Helmets prevent injury when falling or crashing and even protect from wayward tree branches. We strongly recommend all guests wear helmets.
Goggles & sunglasses - There will be no hike-up on our CAT tour so a pair of sunglasses is not necessary. It's recommended you bring along a spare set of goggles.
Action Camera - You are more than welcome to bring these along with you. Share your powder day with friends and family!
All safety equipment is provided. Bags and/or backpacks with snacks, drinks, cameras etc can be kept in the snow CAT during the tour.
We strongly recommend a powder ski/snowboard for Niseko Weiss Powder Cat Tour.
SKIERS: An 80mm waist and over all-around ski is fine, but why not try a set of rocker skis? Rocker skis provide improved flotation on Niseko's deep powder, they turn quickly (handy when in trees) and stop swiftly.
SNOWBOARDERS: We strongly recommended a powder board. You will struggle if your snowboard has a regular camber and freestyle stance setup.
NISEKO SPORTS EQUIPMENT RENTAL: Talk to our friendly staff at Niseko Sports for advice and more information on powder skis/snowboards. Niseko Sports has a wide variety of skis/snowboards, including BURTON, Ride, K2, Line, Rossignol, and Faction which all have a range of popular powder skis/snowboards. Niseko Sports offers the convenient option to switch your ski/snowboards, or even skis to snowboard or vice versa as many times as you like.
Niseko's winter season runs from late November to Early May, the peak powder period is typically from late December through February, although this varies every season. An annual average 4-meter snow base ensures great Spring conditions from March onwards.
Start of Season: The first snowfalls of the year in Niseko are usually in late October through to early November. As temperatures drop and storm cells intensify throughout November, the snow begins to fall to lower elevations, blanketing the entire mountain white with snow. As snowfalls increase, and a base is formed the upper part of the resort becomes skiable - the beginning of the ski season. Winter storms pushing out of Siberia become more frequent from early December, covering small bushes and Sasa grass, this is a surprisingly good time to visit Niseko; with relatively few skiers/riders you will find powder stashes almost everywhere within the resort boundary.

High Season: Most backcountry gates open around the Christmas period. This time through to mid-February is the absolute best time of the season for light & dry powder. If you wish to ski/snowboard deep and dry powder like you see in magazines or DVDs, we assure you, this is the best time of year. Family visitors leave Niseko around mid-January and in their place, powder enthusiasts from all over the world flood into Niseko. This time of year, although snow quality is particularly good, the lifts can be frequently affected by the weather. When upper mountain areas are closed due to weather conditions, you still can enjoy Niseko's powder line riding lower lifts. After February, bottomless dry powder gradually changes to creamy, slightly heavier powder snow.

Spring Season: The weather usually starts to become stable in March, offering good conditions for the backcountry, with more sunny days and better visibility, hiking up to the peak is a joy. In April, snowfall decreases but the snow base is still very high. Skiing / riding down through corn snow on a warm spring day is exceptional. Gates will close if there is a high risk of a slab avalanche.
You will be able to ski an average of 5-6 runs in one tour. The steepest run would be 30 degrees and an average would be 20 degrees. The maximum vertical descent is 450 meters.
Though the amount and quality of snow here is magnificent, the altitude is not high so there are no worries of thin air. The CAT base, where the tour would begin, is located 450 meters above sea level and the peak drop-off is 930 meters above sea level.
Hanazono Powder Guides is a faster-paced service designed for experienced skiers and snowboarders. However, a Hanazono Powder Guides Private Tour can be customized to accommodate beginner powder skiers or a group of people with different abilities.
What makes Niseko Weiss Powder CATS unique is that you don't need to rush or worry about getting fresh tracks. The entire mountain is shared with a maximum of only 8 guests (plus our guides!). The terrain is not as challenging as what Hanazono Powder Guides can offer, so Weiss CAT Tours are suitable for intermediate powder skiers, or advanced guests who want an exclusive and relaxing adventure. Please check our Off-Piste Ability Chart.
If you are a powder hound that just can't get enough of Niseko's famous snow, you should request Hanazono Powder Guides' private tours. Enjoy exclusive early lift access at Hanazono after a big snowfall one day, and move into the backcountry to find more fresh snow the next day.
Terence, Hong Kong
Bottomless blower pow on every run was well worth it. Door to door service! NISS was extremely responsive and patient with all of my questions through the booking process.
Grace, United Kingdom
The Weiss CAT Tour terrain is tame, which was perfect for my husband an I. I really felt safe and improved my powder skiing so much in one day. We will definitely come back to Weiss during our next Niseko trip.
Gary, Australia
We joined Weiss on a beautiful sunny day with fresh snow from the night before. Perfect! The views are incredible as well, with Mt. Yotei and the Niseko resorts all visible at the top. A great experience being the only people on the whole mountain!