Courses
Intorduction to the slopes of Hanazono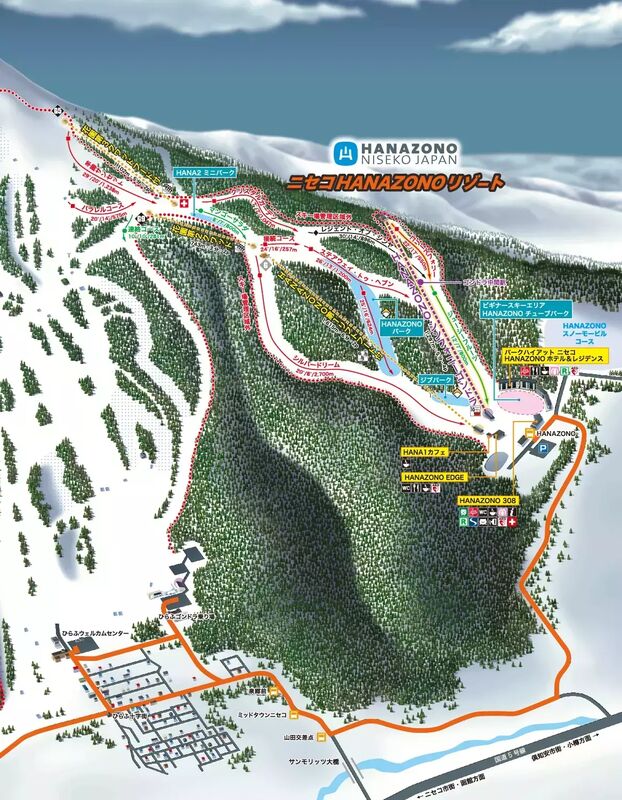 ---
12 Course of Hanazono - all its characteristics
Find the course that suit your style, or the condition of the day and enjoy Hanazono even better!
Image
Name of the course
Description
Max/Min slope
Length
Yotei Sunset
●Intermediate
Ride down with a stunning view of Mt. Yotei. The last part is pretty steep.
Wrapped in tree zone on both sides for fun. Access to Hanazono from Hirafu.
Easy and mild, the wide course is an access to many different courses. Start with Hanazono Mini Park!
Immediately off Hana 1 Lift is this short but fun course for tree run entry, side pow and curving on the groomed zone.
Stairway to Heaven
●Intermediate
Widest of all Hanazono, enjoy beautiful groom or dive into the trees, or shred on the pow on the side.
Silver Dream
●Intermediate
Long cruise starting with a short descent, then chilling part with trees on both sides. Angled 20° midway is a good step up point for beginners. Some jibs and waves appear towards spring season.
Crystal Garden
●Intermediate
Keep speed for flat part in the beginning, then midway there's a change of steepness. Right side bank has powder to have fun.
Legend of Shinya
●Advanced
●Ungroomed
Hit here when there's snow the night before! The only course kept ungroomed throughout the season.
Colly's Folly
●Intermediate
★Night skiing
The new course opened in 2021. Nicely groomed in the center for the beginners, with powder zones left on both sides for more advanced to enjoy fun riding.
Juicy Fruit
●Beginner
★Night skiing
Mild degree all way through at the bottom of the resort is a perfect one for the debutants with an easy gondola ride to the mid station.
Hanazono Park
●Intermediate
One of the Hokkaido's largest terrain park kickers. There're 2 lines for intermediate and more advanced.
A short course that connects to Grand Hirafu Holiday course from Hanazono. A little climb required just off Hana 2 Lift.
Lift status & Activity status
Check the current lift operation status HERE