Heads of Hanazono: Koji Furuta - Niseko Sports Manager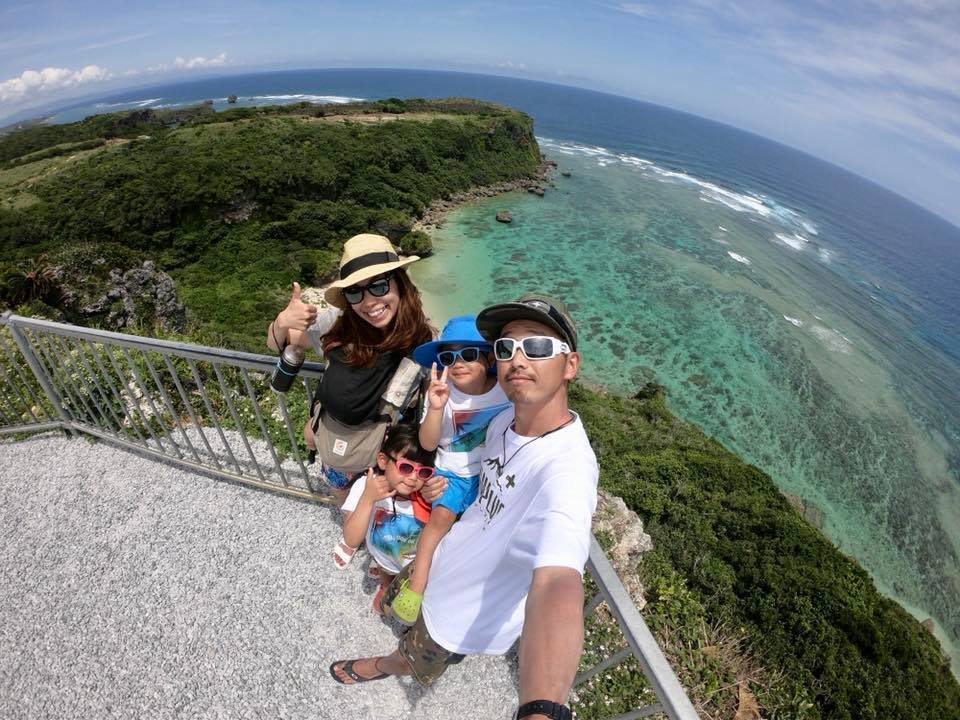 Next up on our Heads of Hanazono series is Koji Furuta, Manager of the Niseko Sports shops. Niseko Sports has established itself as the best rental and retail shop in Niseko, much to the hard work that Koji has put in over the years. He also created the new apparel brand YAMA PLUS which has exploded in popularity in just a short time. Read on to learn more about this man of many talents!
Hi Koji. Thank you for your time. First, let's learn a bit about your background. Where are you from?
I am from Osaka and have lived in Niseko since 2006. I have three kids, a dog, and a wife. I am into playing golf, snowboarding, traveling and love spending time with my family.
When did you start snowboarding?
When I was young I would ski with my family a few times a year.  I switched to snowboarding in 2004 and have been doing it ever since.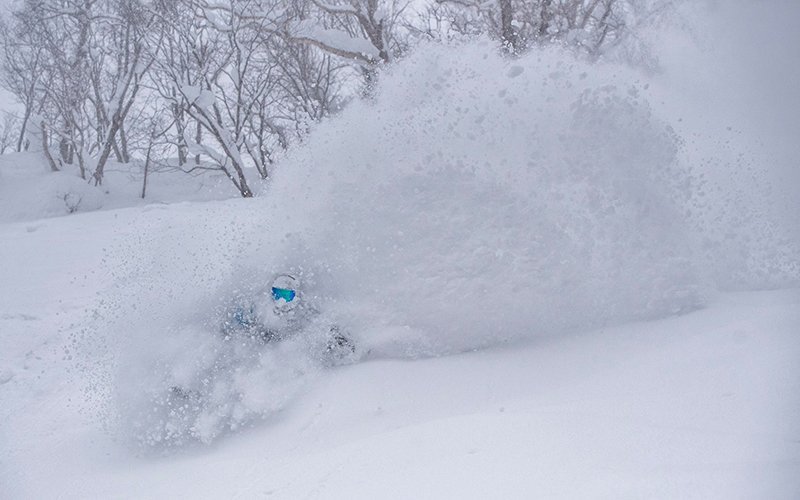 Koji is no stranger to Niseko's deep powder.
I understand that you have done some winter seasons around the world. Where have you lived? Do you have a favorite out of those places?
My love for traveling and snowboarding led me to spend winter seasons in Whistler, Canada and Mt. Buller, Australia.  During my time traveling and snowboarding I met many great people. Traveling let me learn the differences between countries and Japanese culture and customs. This greatly influenced my life and helped me decide what I should do and where I should go.
How did you end up in Niseko?
I had never been to Niskeo before my time overseas. While I was in Canada, I had many international friends who told me "you should go to Niseko if you love powder snow". I took their advice and went to Niseko. I liked it so much that I stayed and set my life up here.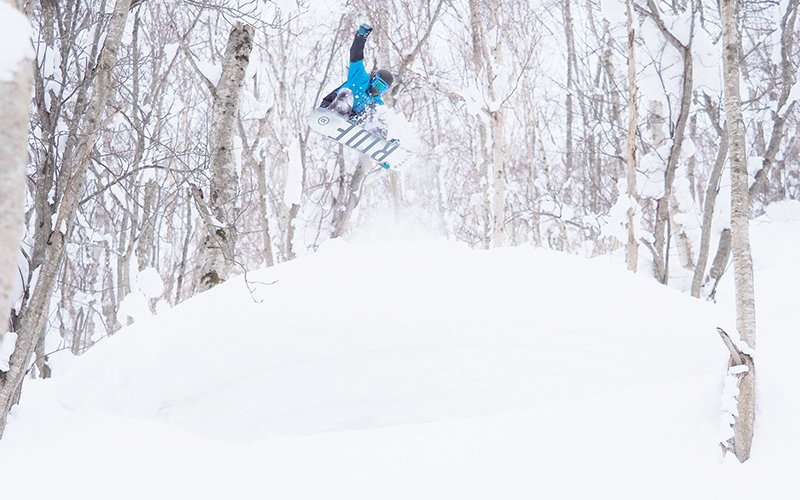 Shop Manager and stylish snowboarder!
How long have you been the Niseko Sports Manager?
I have been working at Hanazono for 11 years and have been the Manager of Niseko Sports for 6 years.
Niseko Sports is known for carrying the best brands in the ski industry. Can you share some of your favorites? Are there any new brands this winter you are working with?
Niseko Sports prides ourselves on having the best gear. For both rental and retail. On the rental and hardgoods side, we feature top brands such as LINE, K2, Faction, Rossignol, and HEAD. A huge selection from carving skis to fat skis with the latest technology to float in Niseko's deep powder. For snowboarding, we have the newest models from K2 Snowboards and Ride. New for winter 2018-19 Niseko Sports is proud to partner with TJ Brand snowboards. TJ is a Japanese board maker based in the Gunma prefecture. These boards are shaped in the snowsurf style and have unique and beautiful characteristics made for riding deep Japanese powder. Please come to Niseko Sports and try them!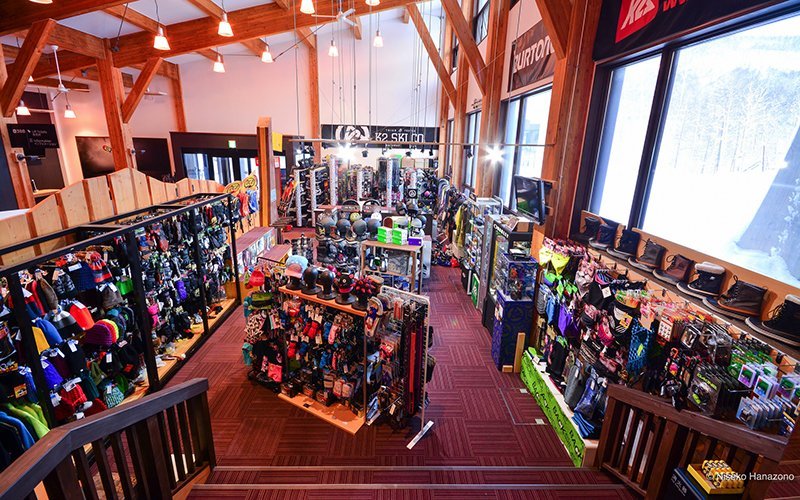 Niseko Sports Hanazono 308 shop
Niseko Sports has 3 locations, allowing guests the most flexibility in where they can rent, adjust, and purchase new gear. Could you talk more about each location?
As you mentioned we have 3 locations in the Niseko Area. 2 are located in the main Hirafu Village and 1 in Hanazono. You can rent, return, store, exchange, or do almost anything at any of our 3 shops no matter which one you initially rent from.
The Hirafu Zaka store is on the main street, just next to the Hirafu intersection.  We rent all of our equipment offerings from this location as well as sell all of the retail goods including, gloves, goggles, helmets, jacket and pants etc.  We also offer a pickup and drop off service at this store. For your initial rental gear fitting, we can pick you up from your hotel in the Hirafu area and take you home with your gear. Niseko Sports can also pick up your equipment from hotels at the end of your rental. This exclusive service allows customers more time on the slopes and less time carrying around equipment.
The Vale Snowsports shop is located inside the 5-star Vale Hotel and is a ski in ski out location. The shop's location allows for easy access to Hirafu's slopes and free overnight storage of skis and snowboards, saving our customers the effort of carrying it back to their accommodation each night. The Vale Snowsports rents all of our equipment and offers high-end retail products from brands such as Kjus, Rossignol and Pole Wards.
The Hanazono 308 store is located in the Hanazono base and is the only rental shop in the area.  Once again this is a ski in ski out location and provides a lot of rentals for NISS lessons as we work closely in conjunction with our snowsports school. Being the only location in Hanazono the advantage is that you can store, exchange, and return all in one location without having to return to Hirafu for any unnecessary reasons.
Moreover, if you book a lesson NISS, we can transfer your ski and snowboard equipment to Hanazono for you in the morning so it is ready for you when you arrive.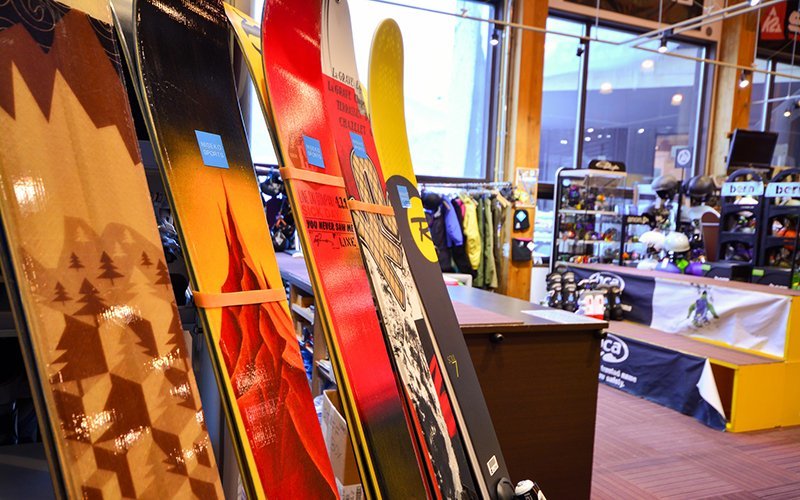 Niseko Sports carries the best brands in the snow industry
What are other advantages that Niseko Sports has over the other ski shops in Niseko?
The biggest advantage of renting from Niseko Sports is the multiple locations in different areas. Customers have more flexibility of being able to pick up and return anywhere as well as make changes and store their equipment. Added to this is the expert staff that are passionate about skiing and snowboarding. Lastly, we offer free waxing on our rental equipment and of course the option to change equipment for Niseko's ever-changing weather and snow conditions.
---
You've created a new brand in Niseko: Yama Plus. Can you tell us more about it?
YAMA PLUS is the new apparel brand made by Niseko Sports in 2016, born out of the love of the mountains by the team. 
"YAMA" means "Mountain" in Japanese. YAMA PLUS is a brand meant for those who enjoy the mountain lifestyle. We are bringing a new possibility for people to express themselves as a community. Though YAMA is the core essence for Niseko, there are many different ways of leading our lives here. While one may love riding powder, for others Niseko is a place to play golf, rafting, hiking, mountain biking, road biking, etc. with Mount Yotei as a backdrop.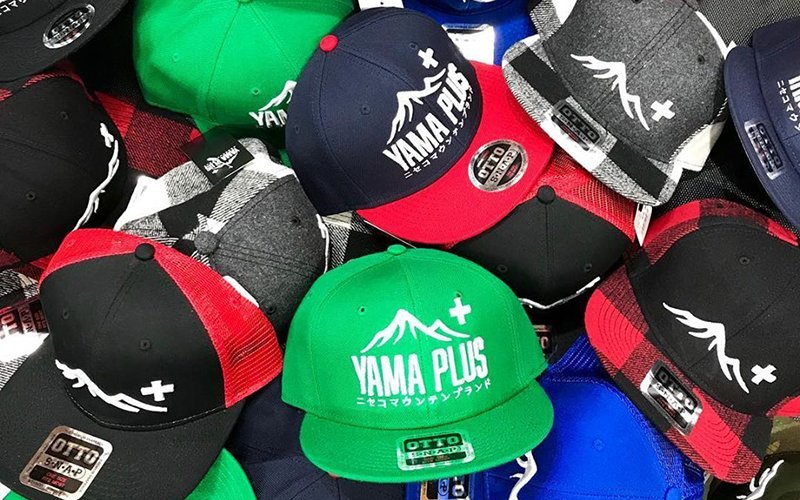 YAMA PLUS makes a wide variety of products including hats, hoodies, face masks, base layers, shirts, socks, beanies, belts, and more.
The brand (Yama Plus) has seen substantial growth in a short amount of time. People love it! Do you have plans of continuing to expand Yama Plus? Or are you happy with where it is?
I am happy with the current situation but I have few plans to expand Yama Plus in the near future. However, this is a secret for now.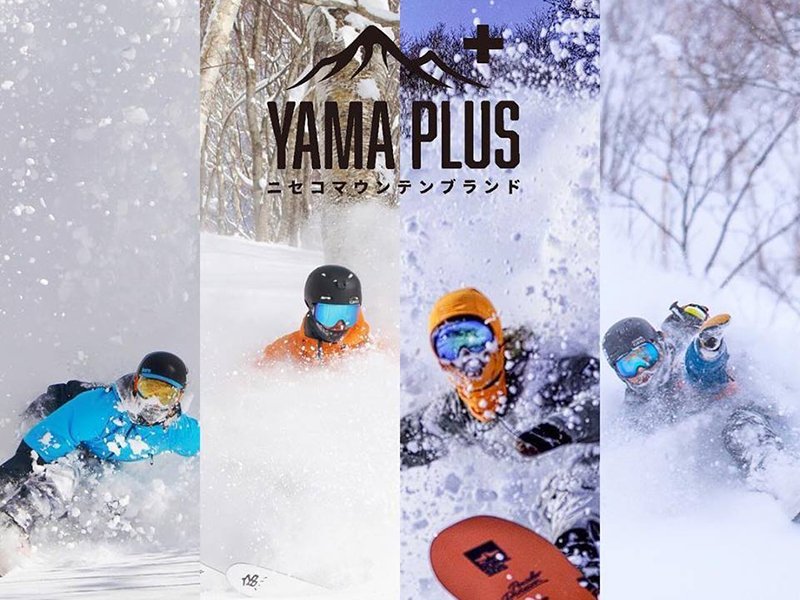 YAMA PLUS is growing fast. We will see what the future holds!
Finally, a very serious question. Which season is better in Niseko? Winter or Summer? Powder or Golf?!
Haha this is a hard question for me. I would say BOTH seasons are great! That's why I am living here!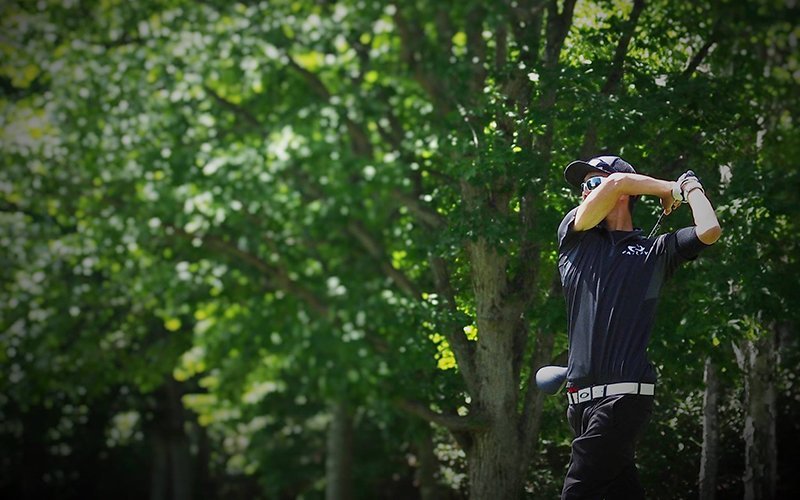 Koji is an avid golfer during Niseko's green season.
Thank you so much for talking with me Koji. Is there anything else you would like to say?
Enjoy your life!
Learn more about Niseko Sports:
5 Reasons Niseko Sports is the Superior Ski Shop in Niseko
Niseko Sports Rental and Retail Information