Heads of Hanazono: Joe Sugano – Operations Manager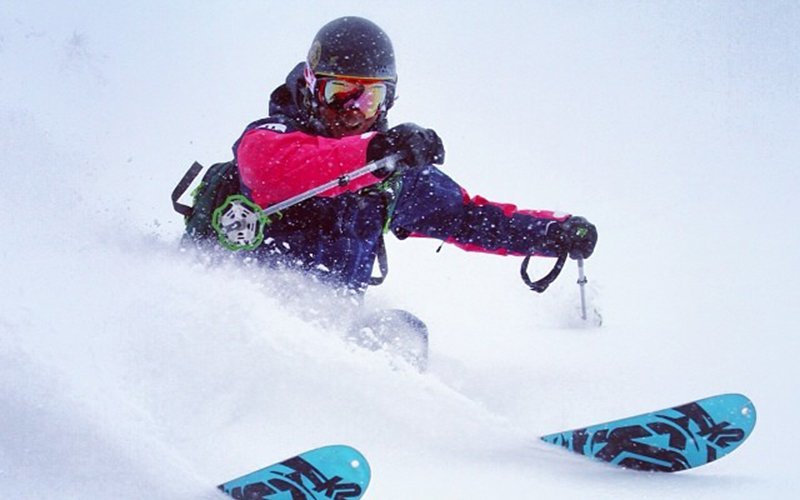 Joe having a great time in Niseko's deep powder
We are continuing our Heads of Hanazono series by highlighting a crucial member of our team: Joe Sugano. Although his title is Operation Manager, he also doubles as a Hanazono Powder Guide. In addition to making sure everything runs smoothly across all of Hanazono, Joe also finds time to ski hard in Niseko's famous powder, and get in as many rounds of golf as he can in summer. Keep reading to discover more about Joe, as well as inside information on Hanazono Powder Guides and Niseko Weiss Powder CATS.
Good morning Joe. Thank you for your time. For our readers, would you mind giving a little background information on yourself? Where are you from? When did your passion for mountains and skiing start?
I started skiing in Lake Tahoe, California. I was studying in Santa Cruz and would make the trip to Tahoe to ski when I had time. However living in Santa Cruz I was an avid surfer first. When I came back to Japan I started skiing seriously. Most of my first backcountry skiing was in the Niigata prefecture. Mostly in the Tanigawadake and Kagura areas.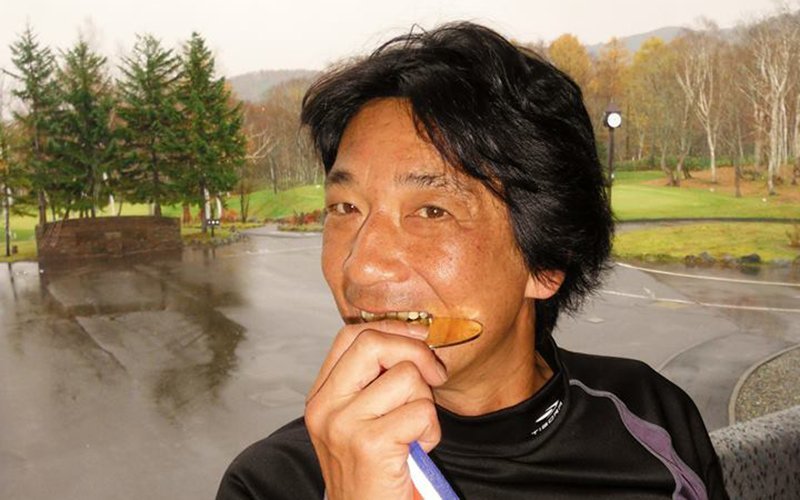 Celebrating after a win at Hanazono Golf!
I know you spent some time in Whistler, Canada. How long were you there?
I was in Whistler as well for 7 years total. I spent 8 winters in the big mountains of British Colombia.
What are some of your other favorite places you have skied in the world?
I have skied many places in the world, and my favorite one of all of them is back in my home country. Niseko is special. That is why I moved here.
What led you to Niseko? And how long have you been living here?
The quality of the snow is amazing in Niseko. So dry and light. This happens even though the temperatures are not as cold as some of the bigger mountains such as in Colorado. Also, the consistency of the snowfall is the best in the world. In peak winter you will wake up to fresh powder nearly every day. Nowhere else can say that. Niseko also has very easy lift-accessed backcountry skiing. I have now lived in Niseko for 11 years.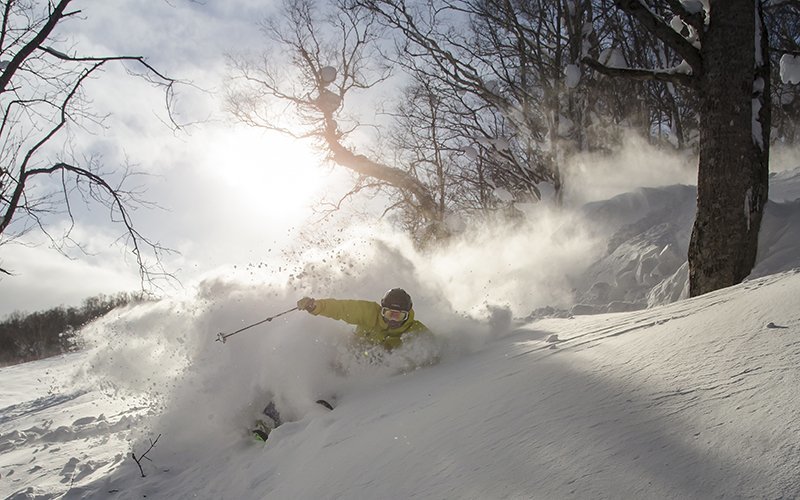 This could be you on a Hanazono Powder Guides tour!
I know your responsibilities for Hanazono are spread across all operations, but I want to focus on two of my personal favorite services that Hanazono provides: Hanazono Powder Guides and Niseko Weiss Powder CATS.
Hanazono Powder Guides is a unique experience. Guests are allowed to ride the lift before the public. Can you talk more about this exclusive experience?
Our guides will pick you up from your accommodation and take you to the Hanazono base where you will be given a safety briefing and backcountry equipment. From there, guests will get on the lift at 730AM. They can ride famous areas such as Strawberry Fields and everything else from Hanazono 1 lift for an hour before the public. After that HPG guests will move up to the top of the mountain first to get to the rest of the best terrain first. Fresh tracks guaranteed!
First tracks and riding the lift before the public is certainly an amazing experience in Niseko's deep powder. What else separates Hanazono Powder Guides from the rest of Niseko's guiding operations?
Most importantly, HPG has true local guides. Most of them have been living in Niseko for more than 10 years. Some of our top guides have even been here for 20 years. A long time before Niseko became famous. This gives an authentic experience to skiing the best powder in Japan. Hanazono Powder Guides also offers private tours. This is perfect for groups who want to move at their own pace or those who want to find all those secrets of the mountain that only locals know. Safety is a priority with HPG, and our guides know the snow better than anyone else.  
This entire video was filmed before the public with lift-accessed terrain at Hanazono!
Next up: Niseko Weiss Powder CATS. The terrain served by the cat used to be a ski resort, correct?
Yes, it used to be a ski resort 19 years ago. The lift towers still remain on the slope. Hanazono has plans to re-open this terrain as a brand-new ski resort, connecting the current Hanazono base and Mt. Weisshorn with a gondola. This will happen in the next few years. Until then, it is only us who use the whole mountain. A maximum of 12 guests. Coming on a Weiss tour is a unique experience where guests have a whole entire mountain to themselves.
The snow can get really deep on Mt. Weisshorn. Is it necessary to bring powder specific skis or snowboards?
Yes, please! Weiss may be the snowiest area in Niseko range. It not only has huge snowfall but also drifted snow from the wind. Compared to gate accessed backcountry area in the main resort, Weiss is generally not too steep. Powder-specific skis and boards certainly help a lot when the snow is that deep. Niseko Sports has a great selection of powder shapes to choose from if you don't have any of your own.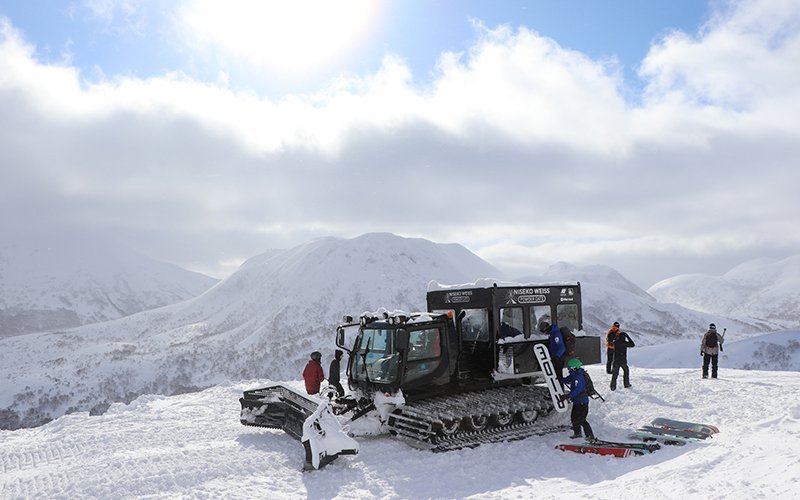 Beautiful view from the top of Mt. Weisshorn
Who should go on a Niseko Weiss Powder CATS tour?
Weiss CAT tours provide a relaxing deep powder experience. The terrain varies, but some options are suitable for those who have not experienced real deep powder in a natural snowfield. In addition, the terrain on these tours can be fun for advanced skier and snowboarders who want a calm and easy day in the beautiful Niseko backcountry without needing to hike for hours to find amazing snow. None of the cat skiing in the Niseko area is as steep as a North American operation for example, so skiers who want steeper terrain should stick to the resort or hiking in the backcountry.
Niseko Weiss Powder CATS: A relaxing deep powder experience
Great details on HPG and Weiss CAT skiing. Is there anything that I missed that you would like to mention?
I don't think so. For Hanazono Powder Guides, guests need to wake up early. Our Group Tours for HPG require advanced skill, and it's not recommended drink too much the night before the tour. We start skiing and riding hard from early in the morning to get the best snow!!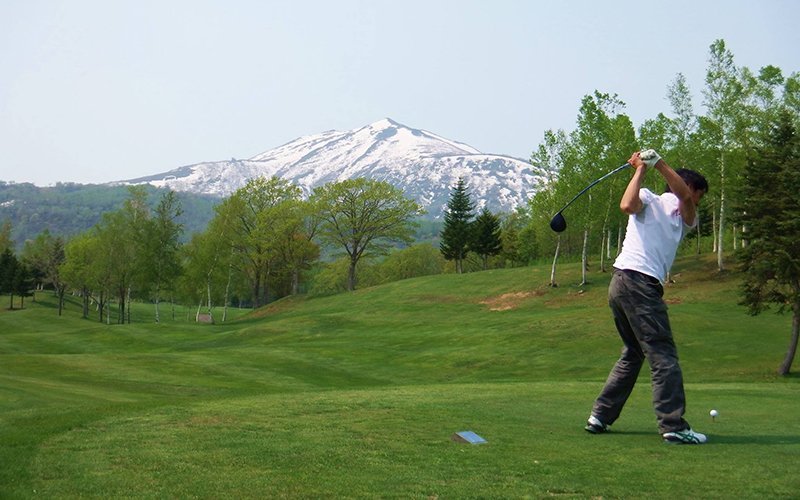 You can find Sugano San on the Hanazono Golf course all summer!
Thank you for your time Joe. Is there anything else you would like to say?
Come ski deep powder with me on a Hanazono Powder Guides tour!
Learn more about: