Roxy at Hanazono – Torah Bright and Robin Van Gyn
Recently Hanazono was lucky enough to host two of the most influential and talented ladies in the world of snowboarding: Torah Bright and Robin Van Gyn. Torah Bright is an Olympic Gold and Silver medalist and Robin Van Gyn is a world-renown backcountry rider and guide. Along with their film crew, Torah and Robin were able to join a Hanazono Powder Guides tour, giving them exclusive access to Hanazono's lifts before the public. 
Thank you Aaron Jamieson for shooting and supplying all the photos in this article.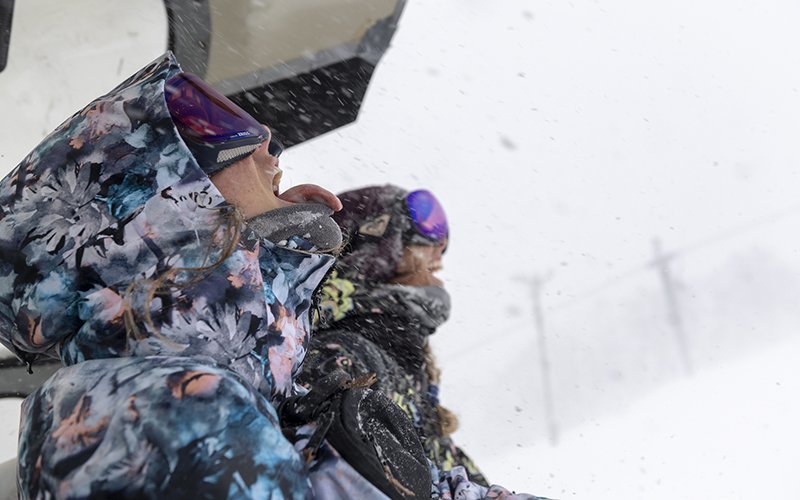 Robin and Torah embracing the famous JAPOW!
Hello Robin and Torah! How was your trip to Niseko? Have you been here before?

Torah: Hello!! Ahh, our trip to Niseko was insane. It had been about 10 years since I had been to Niseko… The village has changed but the essence and charm of the place have not! 
Robin: Our trip was DEEP and filled with amazing Japanese cuisine! I was here last year, same time.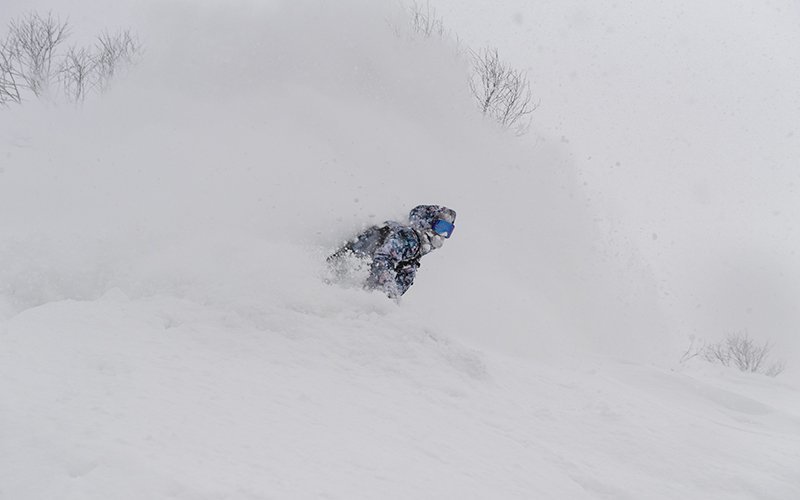 They found the deep powder they were looking for
You two were here shooting for Roxy, correct? What specific projects were you working on?

Torah: We were shooting video and photo for our sponsor, Roxy. It will be used for social media and other campaigns. Robin also has a film project that she was stocking shots for!
Robin: Yes we were here shooting for Roxy! Got a lot of irons in the fire this year, guess you'll have to wait and see.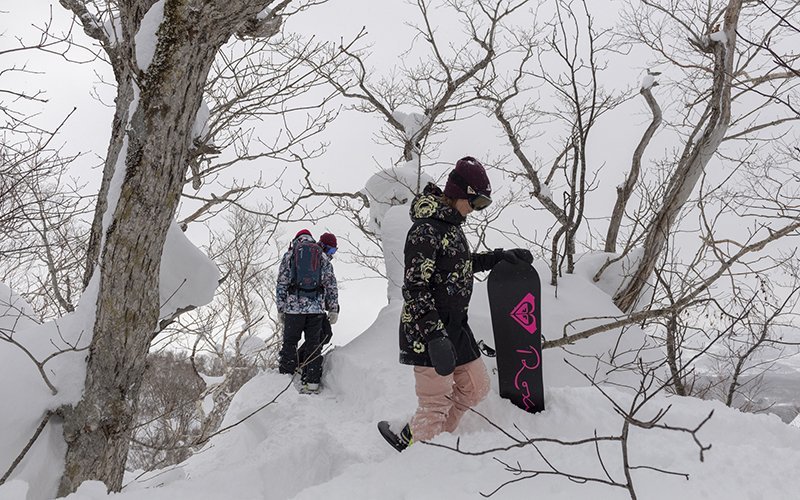 Roxy Snowboards at Hanazono Niseko
Tell us a little bit about your experience at Hanazono. Did you enjoy your Hanazono Powder Guides Tour?

Torah: We timed it perfectly to have an all-time experience with the Hanazono Powder Guides tour!
All week I had been hearing "Strawberry Fields is where we should go when everything is reset with fresh snow." Not having been to Hanazono before it was just a myth with a cute name! Sure enough the morning we were able to hit strawberry… well, it was all-time! Just off the top of the Hanazono lift - the more you push along the more terrain and features open up below you! We could have been in this area all day!! The trees were so perfectly spaced with wide open spaces to chuck a few bucks, and playgrounds with lots of fun poppy features! Ahhh I could go on for days… It was a very memorable day with the snow conditions we got!!
Robin: We got the early ups option which is key for a powder day. We managed 4 laps of Strawberry Fields before it was open to the public which was all time. But then even after the resort opened it wasn't tracked out for a bit. It was absolutely worth the 6AM wake-up call.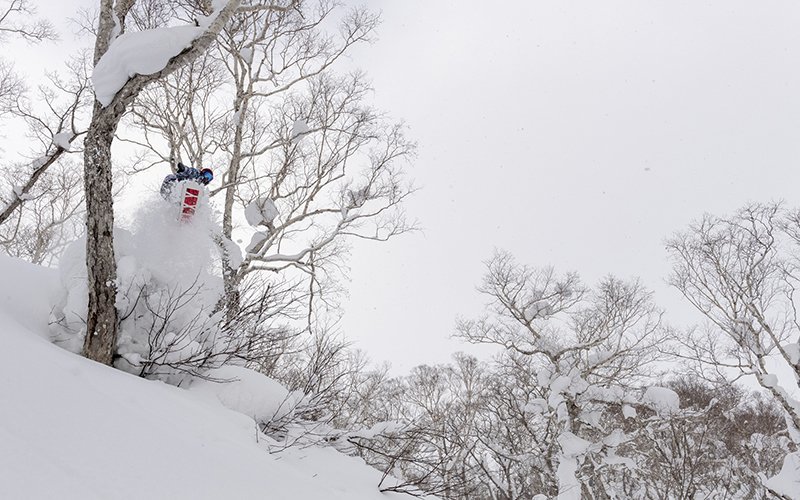 Strawberry Fields holds some amazing terrain! Not to mention these ladies are incredible snowboarders!
How fun is Strawberry Fields (the terrain just off of the HANA #1 lift)? It's pretty special to be able to lap those trees and powder pillows before it opens to the public.

Torah: What I forgot to mention above is that - yes we were able to have this terrain all to ourselves before the lift was open to the public!!! DREAM!!! If this is an option for you on your travels I would highly recommend it!! The ease of resort shredding but the most fun and playful terrain around!
Robin: Yes agreed, these were the best tree and featured laps we had in Japan!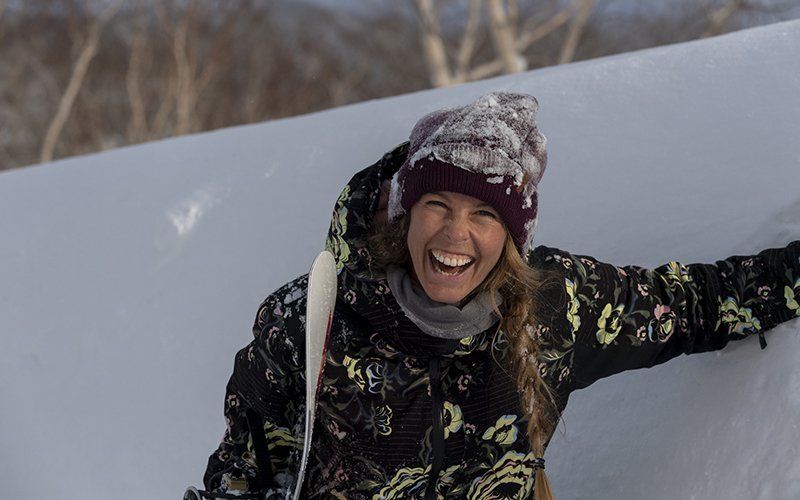 Torah having a great time!
What do you think about the snow in Niseko? Quality, consistent, dry?

Torah: Niseko's snow is insane. During my teenage and adult life, I lived in Salt Lake City, Utah where on the number plates of the cars it says "The Greatest Snow on Earth". On a good day in Utah the snow is so dry and rip-able. But Niseko… it seems in the winter months, the blower pow is a staple… that's what you expect. As long as its snowing its blower. Every day! It's wild and amazing!!
Robin: Yep blower. It has a specific consistency I can't explain, almost weightless, guess you just have to go experience it for yourself and give it your own descriptors!
Robin likes blower pow. 
What was your favorite part of Niseko? 

Torah: That's a hard question to answer when you're in the wonderful musical land of Japan! Our day at Hanazono, lapping strawberry fields was a very very memorable day! I also really loved the people we met along our journey. There is a really great community from imports to locals who are just so helpful. I loved sharing new and delicious meals with our new friends!
Robin: Backcountry days are sweet, but being able to lap the chairlift and do pow runs is the real privilege of Japan.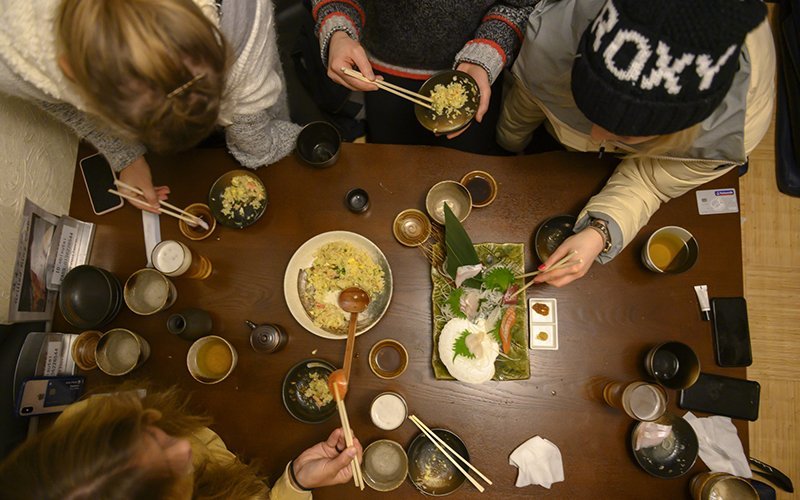 Who doesn't like eating Japanese food with friends?
Any plans to come back to Niseko in the future? You are always welcome at Hanazono!

Torah: Oh yes for sure!! I most made a second trip this year... Unfortunately it will have to wait until next winter! 
Robin: Thanks so much! No plans yet, but I intend on coming back for more POW.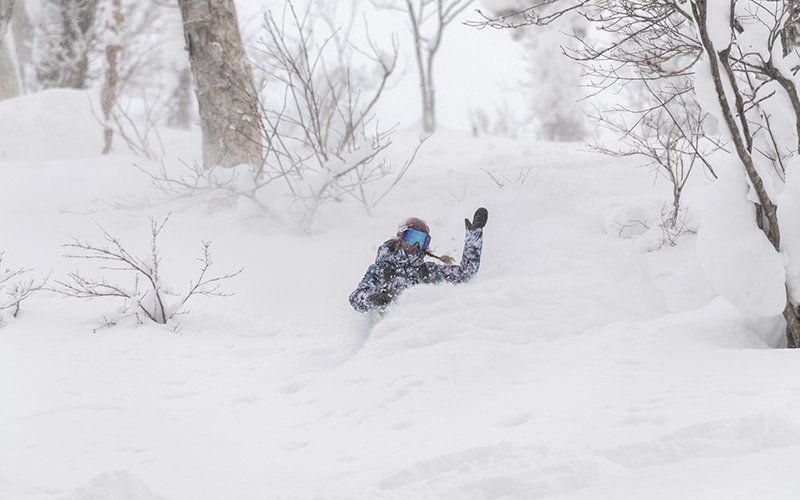 Waving goodbye and sinking into bottomless pow!
Anything else you would like to say?

Torah: Until next time… Thanks for being you! 
Robin: Huge thanks to Hanazono and Niseko Tourism for making our trip so seamless.
Read More!
HANAZONO POWDER GUIDES: BEST IN NISEKO
HEADS OF HANAZONO: JOE SUGANO – OPERATIONS MANAGER