E-bike Tour|Hanazono Summer New Activity.
Introduction to one of the new activities started 2020 green season.
When it comes to summer in Niseko, you would imagine rafting, right? What about an e-bike? Niseko Hanazono Resort has launched some new summer activities in 2020, and this e-bike Tour is one of these. Let's see what it looks like and how fun it is.
What's an e-bike?
An e-bike is a bicycle with an integrated electric motor that can be used for propulsion. An electric bike is just like a normal bike, with the addition of an electric motor and battery.
Hanazono e-bikes
All Hanazono e-bikes have an assist mode switcher: SPORT mode, NORMAL mode, ECO+ mode and ECO mode. It's very easy in sport mode! The motor cuts out when...
The speed is more than 24 kilometers per hour
You're not pedaling. 
E-bikes are great for you!
Those who are not confident in their physical strength
For those who want to enjoy cycling casually
A group of people of various ages and physical strengths
For those who want to feel the summer in Niseko
E-bike tour
We cycled for 31.5km , but a course can be arranged by our experienced guides suitable for your level. Get your bike ready, wear a helmet and gloves, you'll be ready for an adventure!
But first, a briefing! This is a very important part of the tour.
Don't cycle on the gravel path or steps: Please get off and walk your bikes to avoid flat tires.
Brakes:In a typical bicycle, the right brake is for the front wheel and the left brake is for the rear wheel. E-bikes are the same but do not brake suddenly, please.
Gears:this e-bike has gears. For those of you unfamiliar with the bike, it's a bit hard to understand.., but don't worry, you can ride it and find a setting that works for you!
Now it's time to go on an adventure!
Go out on the road, pedal, and now it's time to go! You'll be so impressed with the smoothness of the bike! You can glide up hills without getting out of breath and tackle strong headwinds with ease. Downhill is relatively fast. Cycling downhill with the wind, you feel like you're in a sports car. The e-bike motor will help you get up to 24 km/h. If you want to go faster than this, the motor will cut out and you'll need pure pedal power from your legs.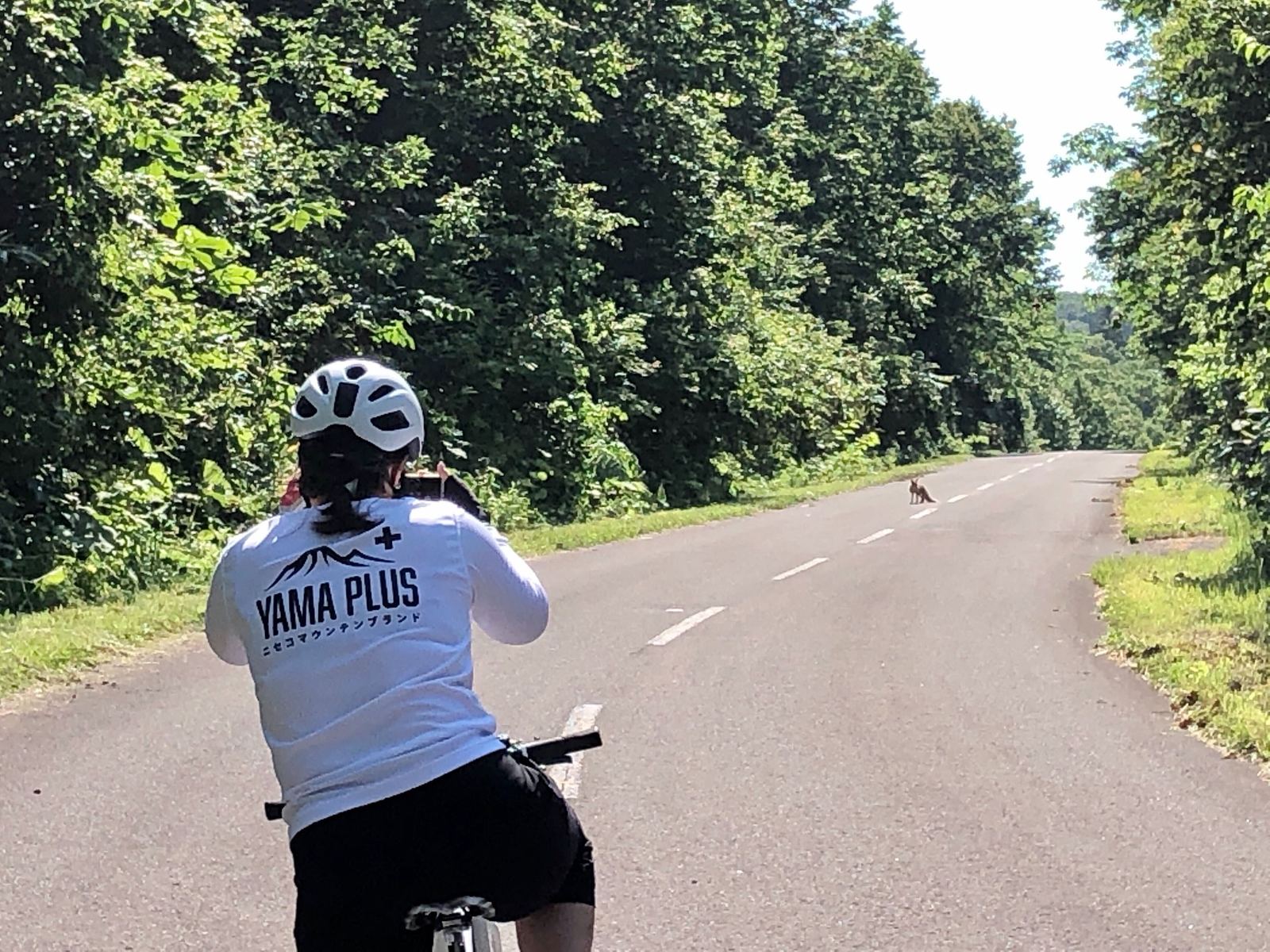 Forest
---
Running through a beautiful forest, bathed in negative ions.
Sweets
---
We got Tunnel Mochi in Kozawa, which has been loved for over a century. We also got some ice cream from Mita Farm afterwards!
So much fun!!!
Normally, you can only drive along these roads, but when you ride your bike, the scenery changes dramatically. You can feel the nature of Niseko with your whole body, which is a different world that only those who have experienced it can know. There are some delicious treats on the way.
Here's what's great about the e-bike!
Long distance cycling
They'll help you go further, faster, longer! Because you've got an added bit of oomph on board, you'll be able to travel greater distances and ride for longer. In ECO mode, the e-bike can go 225 kilometres on a single full charge!
Group ride fun
If you're worried that you're the only one who hasn't ridden before, e-bikes are a great way to get together with other riders of all levels to have fun. It's a great way to get together with friends you haven't had the chance to ride with! The electric motor will help you keep pace with your friends and other group members.
Less tiring
Thanks to the assist, you won't get tired over long distances! You can feel the fresh breeze and it's refreshing even if you sweat! You'll get tired if you keep pedaling frantically, so please make good use of the assist!
So, now do you feel like cycling? For those who have cycled before, and for those who haven't, you must try it! You can have fun at Niseko Hanazono Resort. If you prefer to ride freely rather than on a guided tour, you can just rent a bike and enjoy it. We look forward to seeing you all!
Click the button below for more information or to book!