Your experience in Hanazono? - Dana's Diary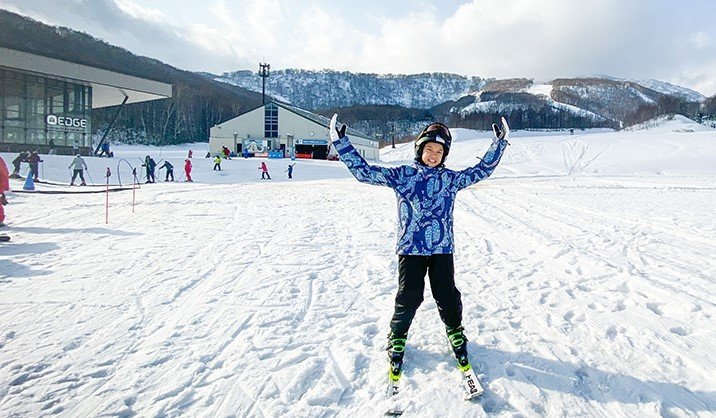 Do you remember the first time you put your foot in the ski boots? The first time you can make a parallel turn on a difficult run? The moment when it all came together? New Year is for a new beginning, discover your possibilities and a world of fun with NISS (Niseko International Snowsports School). 
In this series with Life's Tiny Miracles, a family from Singapore, we will be first taking a journey with Dana and share her exciting experience on the slopes of Hanazono. And what better way to share than to use her own words? Let's get started!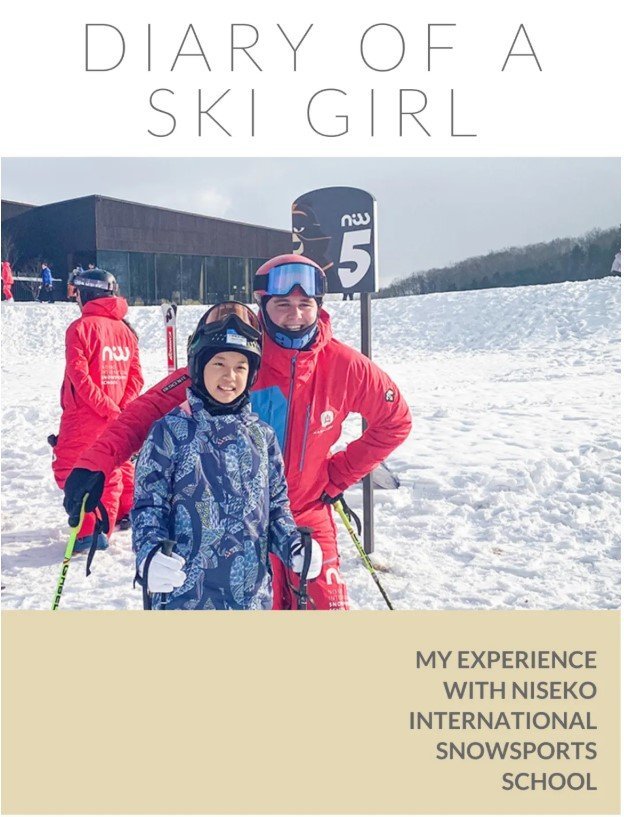 Dedicated to Dana's ski instructors – Eric, Marlissa, and Jackson.
Intro to Ski school
My parents enrolled both Buddy and I in the Niseko International Snowsports School (NISS) Kids Program in Hanazono, Niseko. We were spilt into two different groups, Buddy's in the Tic-Tac Galaxy for 3-6 year olds that only allow skiing while I am in the Yuki Galaxy for 7-14 year olds that allows a choice between skiing and snowboarding. Following that, we were spilt according to our ability to ski/snowboard. There are 5 small groups ranging from the Level 1s, who have never skied before to the Level 5s, who can ski parallel on the entire mountain. The instructors are mostly young adults who are highly experienced in snow sports. I found them to be very warm and approachable.
Each morning, they will decide on the slopes best suited to our abilities and thinking of fun ways to motivate us to reach the next level.
Day 1: – Not Snowing, A Lot of Sunshine
When we arrived in Hanazono, we were able to see the assembly area easily as the ski school had put up signposts for the students. We first sent Alexander into his class and met his instructor for the first day, Sarah. He went into a corner of the room to mingle around with his new friends and played some Lego and building blocks before the class started.
After making sure he was settled in, I headed not far to the Yuki Galaxy meeting point to meet my instructors for Level 4, Jackson and Eric. At around 10 am, we headed up on the Hanazono Hooded Quad Lift #1 and skied down 'Silver Dream', one of their green slopes for a quick warm-up first. The stronger Level 4s would then go with Eric on harder runs, while the rest stays with Jackson on the Green slopes. Since I had not skied since last December, my skiing was very rusty. Sensing my potential in skiing and my eagerness to join the stronger and more challenging group, Eric, Jackson and I made a deal that if I was able to get my 'ski legs' back by lunchtime, I would be allowed to join Eric's group in the afternoon. I worked hard with Jackson in the morning and improved rapidly.
After lunch, I joined Eric and two other girls on the slopes. We first did a quick run down 'Silver Dream' then headed all the way up Hanazono Quad Lift #2 and tried to go down 'Stairway to Heaven', a Red Run. After a few runs around 'Silver Dream' and 'Stairway to Heaven', it was time to end the lesson. The ski instructors made me fall in love with skiing all over again and I am excited for Day 2.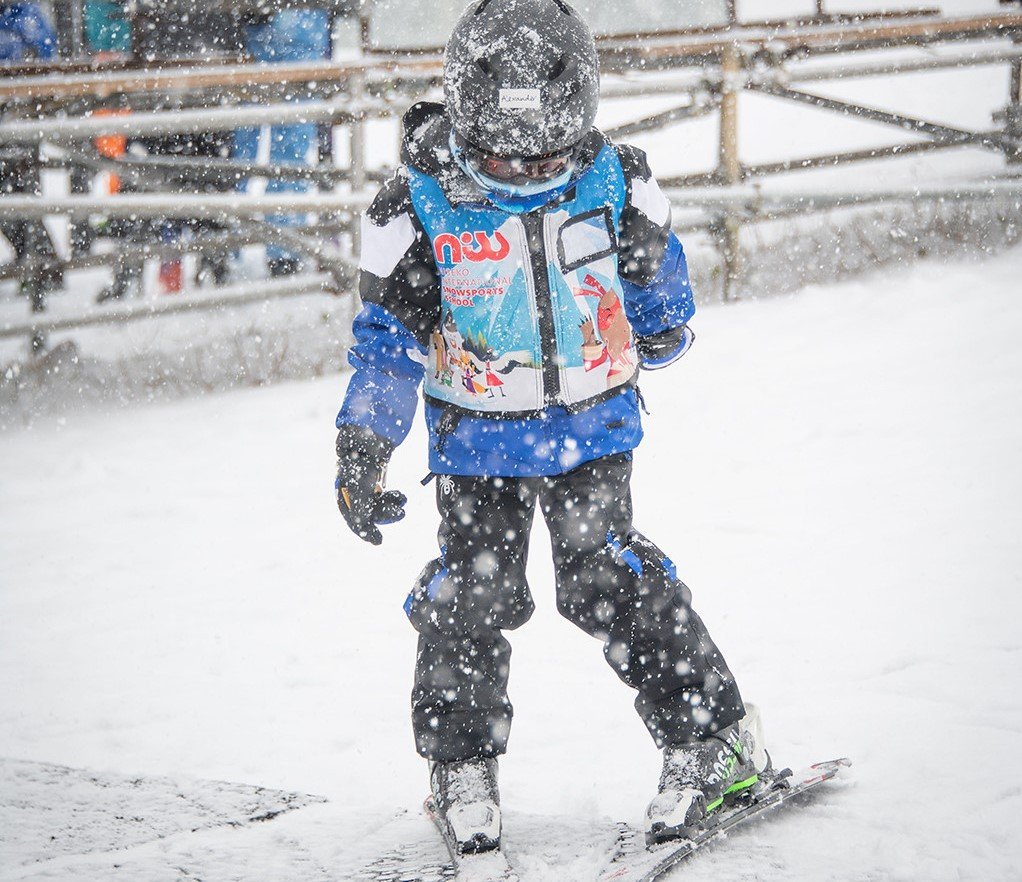 Day 3: Blizzard, Blustery Strong Winds
Strong gusty winds and low vision greeted us when we stepped out of the rental car in Hanazono in the morning. I barely could see within ten meters in front of me. Going up the mountain was a bit of a challenge as the chairlift would rock left and right due to the gusty winds. It just gets more vigorous as we ascended slowly. We went up Hanazono Quad Lift #2 and the wind up there was so strong it almost blew me away on my skis. Thankfully, we were able to go up to the Hanazono Park and I managed to ski on boxes for the first time ever in my life! It was absolutely AMAZING!
Day 4: Amazing Weather, Very Good Snow
As it snowed a lot the day before, the weather today was perfect, and the snow was great. When I hit the slope with instructors and friends, we had a quick run and it was absolutely amazing. Although you could still see a bit of dirt and slush around, the good bits of snow was really powdery, making the conditions extremely delightful to ski in.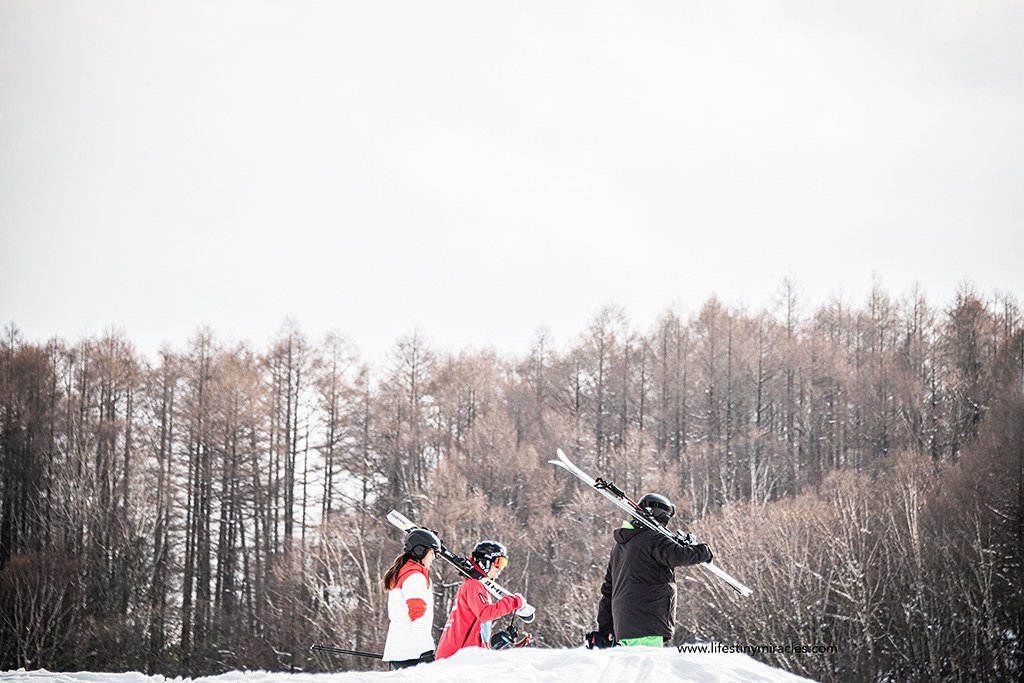 Day 5: Perfect Weather for Skiing
This is the day we leave Hokkaido. As we have to start driving to New Chitose Airport at 2pm, we only skied for half a day in the ski school. Knowing that it was my last, my instructor, Merlissa tried her best to make the time as fun and worthwhile for me. She brought us up to Hirafu and played numerous ski games, then we went back down to Hanazono and we skied down 'Silver Dream' countless times. I also skied down 'Stairway to Heaven' 3 times. Merlissa also brought us to the Hanazono Ski Park and taught us how to do tricks. She made the time so fun that in a blink of an eye, I was bidding my ski instructors and friends goodbye. All the instructors are amazing. I really enjoyed my time with NISS and Hanazono is my favorite ski resort. I hope that my brother and I can return very soon, hopefully, next season.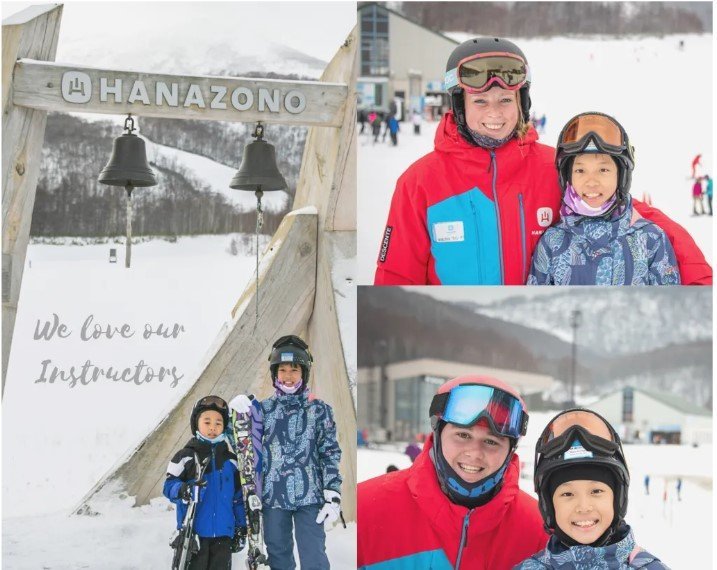 A word from her parents...
When we first started our daughter Dana in skiing 4 years ago in 2015, we had no idea she would come this far. After all, coming from sunny Singapore, our kids only get a chance to ski once a year perhaps (if we can afford a trip to a snowy country that year). However, we were pleasantly surprised. What started out as a recreational activity for our daughter then has turned out to be a sport she has taken to quite seriously.
She last skied in Hokkaido two years ago in 2017, where she already showed signs that she was ready to progress from intermediate to advanced level. So for 2019 (after a year's break where we toured Finland last year), we wanted to build-on her skill, and more importantly her love for skiing at a more advanced level.
Honestly, she herself was a little quite apprehensive if she could still remember to ski properly. For our Hokkaido trip this time around, we decided to go to a ski slope which we chanced upon during our earlier trips to Niseko. A ski slope that is wide and not as crowded (and hence safer). From our conversations with fellow skiing friends, we decided to enrol both Dana and Buddy at Hanazono Niseko's premier ski school – Niseko International Snowsports School.
The NISS Difference – Fun. Friendly. Firm.
Right off the bat, the instructors' passion for skiing and snow sports is palpable and infectious. Adding on to the systematic and fun methods of teaching, the instructors know that the best way to teach is to form a fun, friendly yet firm relationship with the kids.
Through the next few days, we saw Dana's instructors bringing her and her friends up and down the ski slopes of Hanazono countless times helping them to hone their skills. Every night, we hear Dana recount attempting the red and black runs while her instructors devised games and fun routines for them to learn and apply their skills. Personally, I was quite touched when I saw one afternoon when the snowfall got too heavy for safe lessons, the instructors paused the lesson but yet were still giving them tips and answering the eager kids' questions on skiing, over a hot cup of chocolate.
Wanna take your ski/snowboard skills to the next level?
Check your level and decide which program is best suited for you and your loved ones HERE. For information on NISS and all the programs they have on offer, click here.