Ducky Tours: Everything You Need to Know
Kacey Gambin
August 01, 2019
Take to the Shiribetsu river in a new way this summer with a Ducky tour through the heart of Niseko! These unique inflatable kayaks offer an exciting alternative to rafting, where one or two people can take to the rapids and feel the exhiliration of the fast water below.
Ducky boats are banana-shaped and offer more control and speed than a traditional raft, so it's great for friends, couples or family members who want to challenge themselves if they've done rafting before.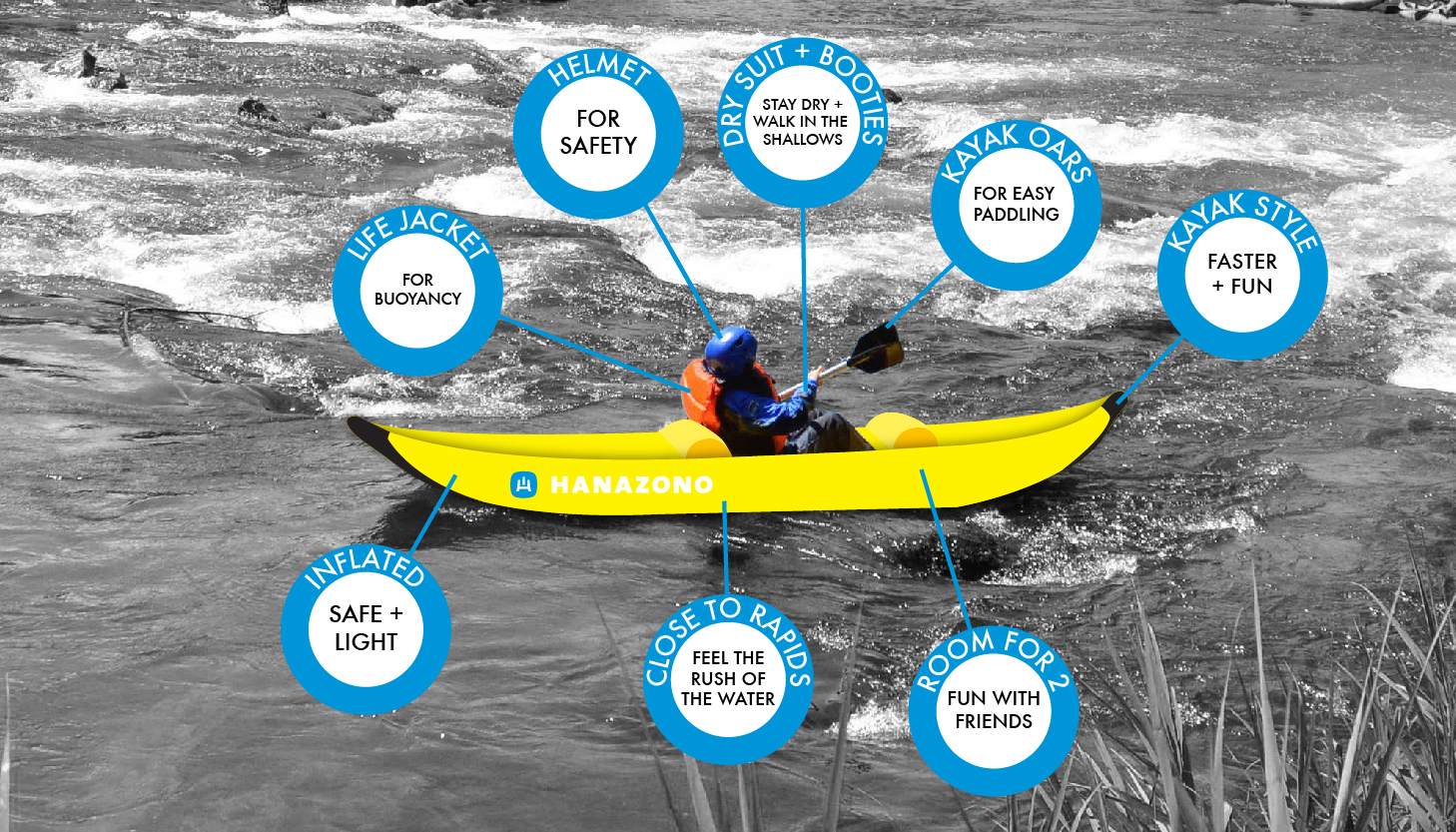 You'll receive all the instruction and safety provisions you need from one of our expert guides so you can have a blast and most importantly - be safe!
Your Day on a Ducky Tour
Arrive at HANAZONO 308 around 8:30am for a morning session or 1pm for the afternoon session and check-in at the activities desk.
Meet your instructor and get fitted with all the necessary equipment: helmet, dry suit, river booties and life jacket!
Head to the river bank where you will play some introductory games and get used to the mechanics of the boat.
Spend 3 hours going down river, completing challenges and having a blast with your new buddies!
Get dry and head to your next destination, depending on your package:

Ducky Tour only - HANAZONO308 (transport provided)
Ducky + Lunch - Restaurant of your choosing from the list (transport from HANAZONO308 not provided)
Ducky, Lunch + Onsen - Hotel Niseko Alpen (transport from HANAZONO308 not provided)
Ducky, Lunch + BBQ - Ikoinomura (transport from HANAZONO308 not provided)
Packages
After a morning session of going down exhilirating rapids and fun challenges, relax with a delicious lunch or lunch + onsen package, where you can enjoy the delicious cuisine of Niseko's culinary scene and soak your tired muscles in a mineral-rich geothermal bath.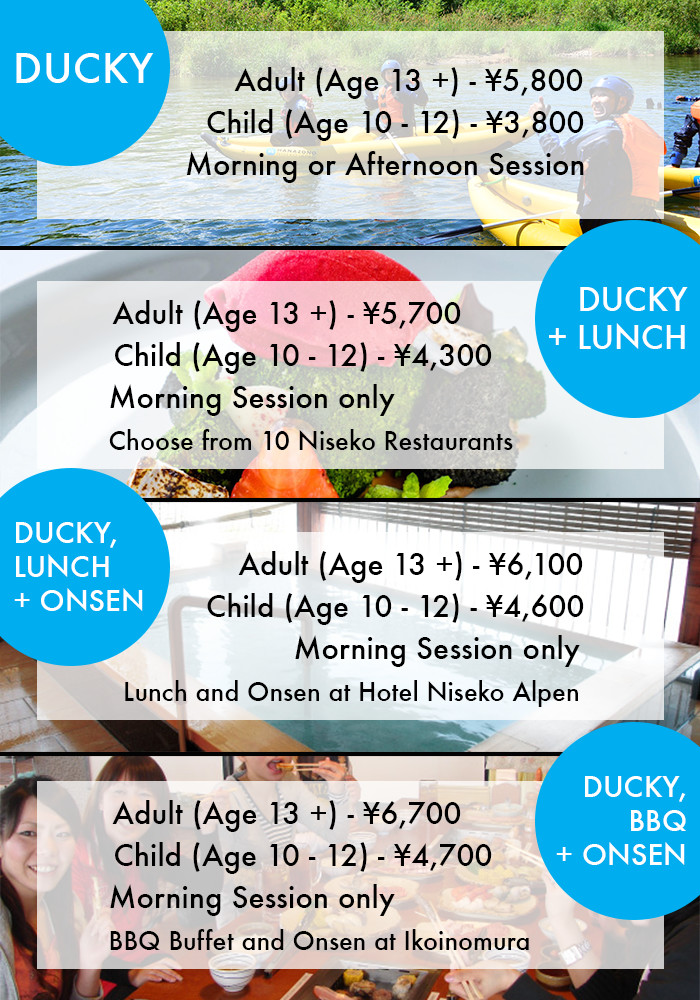 What should you wear for a Ducky Tour?
Although you will be provided with a dry suit to keep you as dry as possible on your trip, we recommend wearing an outfit you don't mind getting wet, is non-restrictive and loose (avoid skirts, jeans and any material that does not stretch!)
It's also important to remember that the river can be quite cold, especially in Spring and Fall, so be sure to bring a towel and warm clothes to change into at the end of the trip, wear layers and definitely have long sleeves and pants during the shoulder seasons.
If you have a cord for your glasses, be sure to bring it or we can provide you with one if you need. If you wear contact lenses, we recommend switching to glasses for the day or only wearing single-day lenses.
Please be sure to leave valuables, jewellery and accessories at home so there is chance of losing them, and river booties will be provided as part of the tour so any shoe is fine on the day. Professional photographers will travel with you on your trip so there's no need to worry about bringing cameras or phones in the boat - it's all done for you!
Discounts for Ducky Tours
For those wishing to do a Ducky tour and not a package, we have some great discounts throughout the green season!
Discount

Adult (¥)
Child (¥)
Notes
Online Discount
4,200~
3,100

Larger the group of people you book online, greater the discount you will receive

1~2 pax: ¥4,800
3~4 pax: ¥4,600
5 pax ~: ¥4,200

Please note online booking is available until 5pm one day in advance.

Returning Guest
4,000
2,700
Save average 30% every time you book another tour during 2019 summer season
Discount coupons to onsens are also offered upon request to all Ducky Tour participants! More info here.
Booking
Generally, it is always best to book in advance, however walk-ins may be available on the day subject to guide availability. To secure your tour ahead of time, advanced booking is required by 17:00 the day before online, and 18:00 by phone.
For all tours, children are considered as 12 and under, and adults are over 13 years old. Children must ride tandem with an adult 18 and over. Tours and packages are available in different periods throughout the year:
Ducky Only: June 1 - August 31, 2019
Ducky and Lunch Package: April 27 - August 31, 2019
Ducky, Lunch and Onsen: May 19 - August 31, 2019
Ducky, BBQ and Onsen: June 1 - August 31, 2019
Online Booking with HANAZONO Activity Center
Email: raft@harmonyresorts.com
Hours: 8:00AM 〜 6:00PM
Phone Booking with HANAZONO Activity Center
+81 (0)136 - 21 - 3333
Hours: 8:00AM 〜 6:00PM
Phone bookings for activities are only accepted if placed within 48 hours. On the day walk-ins are welcome but subject to guide availability.
Related Articles